March 18, 2011 | by Nick Liptak
Elizabeth Bishop only published about one hundred poems during her lifetime, but these days, it's possible to know more about Bishop than ever before. Last month saw the publication of a new book revealing her decades-long correspondence with The New Yorker's poetry department. "What I think about The New Yorker," she wrote to her friend and fellow poet Marianne Moore, "can only be expressed like this: *!@!!!@!*!!" A lengthy volume documenting her epistolary exchanges with Robert Lowell was published in 2008. It's easy to forget that Bishop was a very private person, often refusing to talk publicly or artistically about her personal life. "How stunning," wrote The New York Times, in 2002, of a Bishop biography, "to learn that the love of Bishop's life was a swaggering Brazilian woman, the aristocratic self-trained architect Lota de Macedo Soares." "Art just isn't worth that much," Bishop once wrote to Lowell, after he had published his wife's letters in his work. But for admirers and diehards alike, sometimes an inquiry is.
And so I found myself at a gathering in a downtown apartment last week for an event called the Wilde Boys: a queer poetry salon, where Richard Howard, who knew Bishop, and his former student Gabrielle Calvocoressi, the author of Apocalyptic Swing, were invited to "queer" the writer by talking about the way she coded sexuality into her work.
Beforehand, there was heavy mingling. "We're all poets and classmates, and graduated from different M.F.A. programs in New York around the same time," said Alex Dimitrov, the well-groomed twenty-six-year-old who founded the group in 2009. Liam O'Rourke, an elementary-school teacher who was wearing a pin with a black-and-white photograph of Bishop on it, said he teaches Bishop to his third graders. "I mention that she had a partner, but I don't teach her sexuality as a key to her work," he added.
July 19, 2010 | by Hilton Als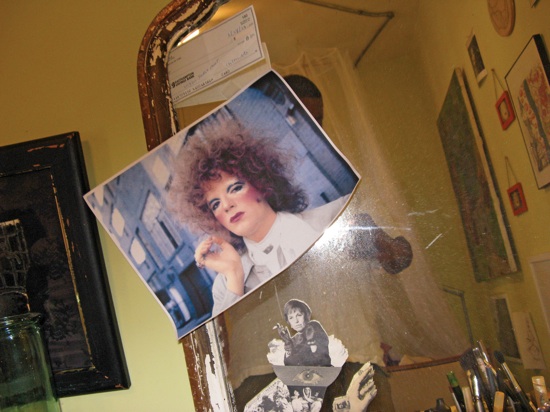 It's the queers who made me. Who sat with me in the automobile in the dead of night and measured the content of my character without even looking at my face. Who – in the same car – asked me to apply a little strawberry lip balm to my lips before the anxious kiss that was fraught because would it be for an eternity, benday dots making up the hearts and flowers? Who sat on the toilet seat, panties around her ankles, talking and talking, girl talk burrowing through the partially closed bathroom door and, boy, was it something. Who listened to opera. Who imitated Jessye Norman's locutions on and off the stage. Who made love in a Queens apartment and who wanted me to watch them making love while at least one of those so joined watched me, dressed, per that person's instructions, in my now dead aunt's little-girl nightie. Who wore shoes with no socks in the dead of winter, intrepid, and then, before you knew it, was incapable of wiping his own ass—"gay cancer." Who died in a fire in an apartment in Paris. Who gave me a Raymond Radiguet novel when I was barely older than Radiguet was when he died, at twenty, of typhoid. Who sat with me in his automobile and talked to me about faith—he sat in the front seat, I in the back—and I was looking at the folds in his scalp when cops surrounded the car with flashlights and guns: they said we looked suspicious, we were aware that we looked and felt like no one else.
It's the queers who made me. Who introduced me to Edwin Denby's writings, and George Balanchine's "Serenade," and got me writing for Ballet Review. Who wore red suspenders and a Trotsky button; I had never met anyone who dressed so stylishly who wasn't black or Jewish. Who, even though I was "alone," watched me as I danced to Cindy Wilson singing "Give Me Back My Man," in the basement of a house that my mother shared with her sister in Atlanta. Who took me to Paris. Who let me share his bed in Paris. Who told my mother that I would be O.K., and I hope she believed him. Who was delighted to include one of my sisters in a night out—she wore a pink prom dress and did the Electric Slide, surrounded by gay boys and fuck knows if she cared or saw the difference between herself and them—and he stood by my side as I watched my sister dance in her pink prom dress, and then he asked what I was thinking about, and I said, "I'm just remembering why I'm gay." Read More »