Posts Tagged 'public library'
April 17, 2014 | by Robert Dawson
A photo essay for National Library Week.
There are approximately seventeen thousand public libraries in the United States. Since I began this project in 1994, I have photographed hundreds of libraries in forty-seven states.
I didn't intend this project to last eighteen years. Many of the early libraries were photographed during longer journeys, when I had the time. The photography was usually connected to some other effort, such as when I taught workshops in Alaska in 1994 and Key West, Florida, in 1997. In 2000 my family and I took a long drive throughout the American West, occasionally photographing libraries along the way. In 2007 we traveled through Louisiana and parts of the South, again photographing a few. Every summer we have stayed in a little cabin in Vermont. I have always brought my camera along on each of those trips and gradually began to accumulate photographs from places other than my home in California. In the late 2000s I began to focus the project. I made specific library photo trips throughout Nevada and to Seattle, Salt Lake City, and Chicago. I began to realize that if I wanted to make this a national study, I had some more traveling to do. Read More »
January 3, 2014 | by Dan Piepenbring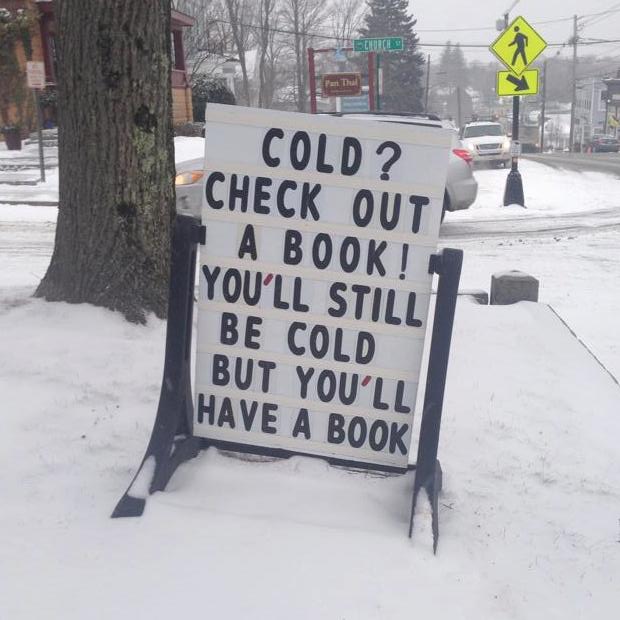 As the Northeast is battered by "Winter Storm Hercules"—a nor'easter all but destined to enter Wikipedia's list of notable nor'easters—one public library has provided succor, sort of. In Hopkinton, Massachusetts, a redditor came across this sign; to its great credit, it suggests neither burning books, nor reading erotica aloud, nor any other heat-generating gimmickry. Rather, it stands as a stark, charmingly blunt reminder that though literature may warm the soul, it will never warm the body.
Curl up with a good book today, but don't try to be a hero: curl up with a blanket, too.