Posts Tagged 'psychology'
July 15, 2015 | by Zach Sokol
Growing up with obsessive-compulsive disorder.
From the ages of twelve to fifteen, I went through an obsessive-compulsive rigmarole before bed every night. The process demanded a minimum of two hours filled with concentrated touching, blinking, gulping, repetitive thinking, and chanting. If I botched any part of this strict routine, or if I was interrupted, I'd have to start the whole ordeal again, often tacking on an extra hour.
When I finished, I'd tuck myself into a sleeping bag under my covers, even during the most humid summer nights. I did all this out of fear: if I didn't adhere to my compulsions, I thought, I would be brutally murdered in the middle of the night by a nonspecific being, or snakes would slither up my bedpost from beneath the frame and bite the soft spots between my toes. I used the heatstroke-friendly sleeping bag to "protect" my vulnerable digits.
Even then, I understood that my compulsions didn't make sense. Many people with OCD are aware of the irrationality of their compulsions. But our behavior and our habits are governed by an internal system, a logic engineered to quell fear and anxiety so we can operate within our skulls and in the outside world. These rules, mind games, and habits are reinforced through practice. They become a way of life. Read More »
September 1, 2011 | by Roz Chast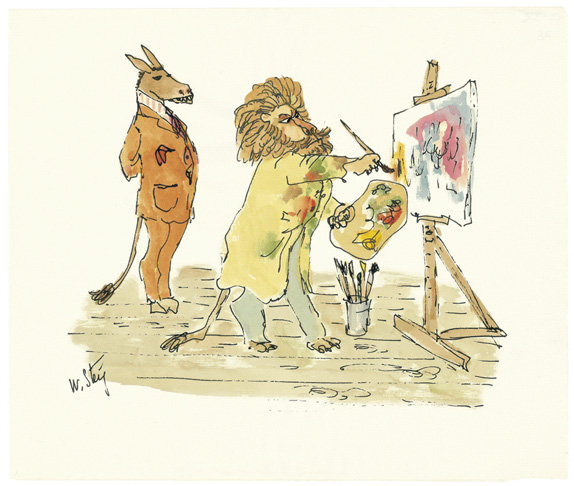 I first noticed William Steig's covers and cartoons around 1970, when I was a teenager and would page through my parents' New Yorker magazines. His drawings didn't look like the rest of the cartoons in the magazine. They didn't have gag lines. There were no boardrooms, no cocktail parties with people saying witty things to one another. His men and women looked as if they were out of the Past, although I wasn't completely clear as to what era of the Past they were from. Sometimes the drawings made me laugh, and sometimes they didn't, but I always wanted to look at them. I had a sense that these cartoons were made by someone who had had to create his own language, both visual and verbal, with which to express his view of the world.
His subjects? Animals, both real and imaginary. Also cowboys, farmers, knights on horseback, damsels in distress, gigantic ladies and teeny-tiny men, grandmas, clowns of indeterminate gender, average joes, families, old couples, young couples, artists, deep thinkers, fools, loners, lovers, and hoboes, among other things.