May 25, 2016 | by Glen Baxter
Our celebration of Glen Baxter proceeds apace. To mark the release of his new book Almost Completely Baxter: New and Selected Blurtings, we're running two of his illustrations every day this week. Almost Completely Baxter spans four decades of "Colonel" Baxter's work, drawing from such books as The Billiard Table Murders and Blizzards of Tweed. "Baxter's comic realm—the space between image and text, between perplexity and the mundane—is a locale where uncertainty emerges as weird and weirdness recedes into uncertainty," Albert Mobilio wrote recently in Bookforum. "The funny arrives as a slow-motion detonation that seems to dissipate as quickly as it boomed." Baxter's short stories appeared in The Paris Review's Winter 1972 issue; a portfolio, "It Was the Smallest Pizza They Had Ever Seen," followed in Summer 1985.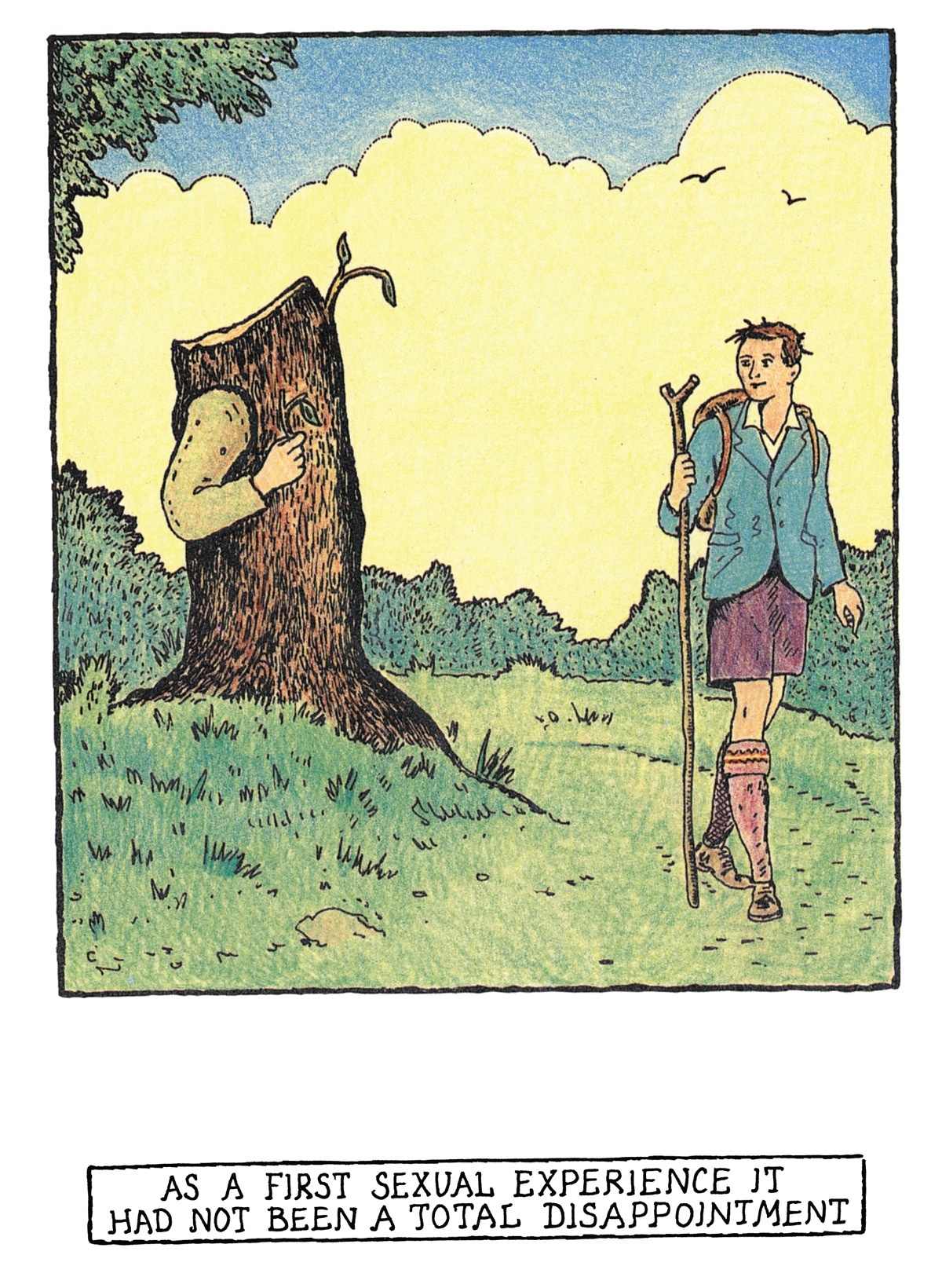 Read More »
February 16, 2014 | by Edward McPherson
This is the second in a two-part series on St. Louis and the 1904 World's Fair. Read part 1 here.
The Palace of Agriculture is a blinding colossus in the sun. The man next to me reads from a booklet: twenty acres large, covered with 147,250 panes of glass. I have timed my visit—in one minute a giant clock made of 13,000 flowers will strike the noon hour. I am finished with the exhibits. I have seen the Missouri corn palace, the 4,700-pound cheese; I have laughed at Minnesota's contribution, "The Discovery of St. Anthony Falls by Father Hennepin" shaped out of one thousand pounds of butter. Now a hiss of compressed air throws the 2,500-pound minute hand the final five feet, where it points to the giant numeral 12. An hourglass flips, doors open to reveal the gears of the clock—the triumph of industrial time—and a massive bell tolls the death of more agrarian rhythms.
Pyramids of fruit on a sea of china plates—the entire Palace of Horticulture smells like apples. Virginia has created a statewide shortage by sending too many to the Fair. I dip my fingers into the fountain, which gushes ice water. Farmers shake their heads at the monstrosities on display: a pineapple the size of a turkey and a mysterious dimpled fruit, said to be the unholy cross between a strawberry and a raspberry.
 * * *
The company is a major employer in this city. One cannot miss its print and radio campaign: "We grow ideas here." "We work together here." "We dream here." "We're proud to be St. Louis Grown." Its website offers videos of employees working in food banks, cleaning up after tornados, visiting Forest Park, and standing in front of the Arch. Articles rate the town's best burger joints, as judged by company workers. The company is a major donor to local charities and institutions, including the university in which I teach. In 2013, the company's net sales were $14.8 billion, up ten percent. Its chief technology officer won the 2013 World Food Prize. The company has 21,183 employees in 404 facilities in sixty-six countries—but its headquarters are here, where, over the years, the much-maligned Monsanto Company has worked to produce saccharin, PCBs, polystyrene, DDT, Agent Orange, nuclear weapons, dioxin, RoundUp, bovine growth hormone, and genetically modified seeds. Read More »