Posts Tagged 'procrastination'
October 31, 2011 | by Laura Miller
Even the most confident of writers can be excused for wondering if words, mere black-and-white glyphs, can compete in a world filled with ever more animated, flashing, full-color, special-effects-crammed and interactive visual media. At such times, it's helpful to remember a passage from Norton Juster's children's novel, The Phantom Tollbooth, describing a visit by the hero, Milo, to the archives of the Soundkeeper in the Lands Beyond.
The Soundkeeper boasts that her vaults contain "every sound that's ever been made in history." To prove it, she opens a drawer and pulls out "a small brown envelope," explaining that it contains "the exact tune George Washington whistled when he crossed the Delaware on that icy night in 1777." Milo, Juster writes, "peered into the envelope and, sure enough, that's exactly what was in it." The narrative moves briskly on.
Like much of the best fiction for children, this scene illustrates how writing well consists not only of knowing what to put in, but also of knowing what to leave out. Read More »
November 5, 2010 | by Lorin Stein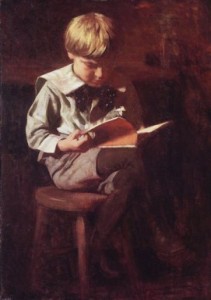 I was having this argument with my friend recently about award-winning novels. I find them stodgy and inaccessible. She thinks I'm not applying myself to the pages long enough to get it. In defense, I invoked a literary heavyweight—Martin Amis. He was quoted a few weeks ago as saying, "There was a great fashion in the last century, and it's still with us, of the unenjoyable novel. And these are the novels which win prizes, because the committee thinks, 'Well it's not at all enjoyable, and it isn't funny, therefore it must be very serious.'" She tried to tell me that Amis has sour grapes from his Booker Prize near-miss in the early nineties. We need someone to settle this. —Paul Hawkins
It may have been sour grapes, but don't you think Amis is right? The worst is when the judges of literary prizes try to legislate from the bench—flexing their "muscle" by giving a prize to some book that nobody's ever heard of, or passing over a popular favorite because it's "too obvious" or "doesn't need it." As I wrote the other week, when it comes to literary merit (or sex appeal) there is no such thing as too obvious. And most unfun novels are not much good. My heart sinks when I see a list of unknowns as finalists for a prize I care about. It is usually a case of committee work or telling people what they ought to like (and already know they don't).Then there are wonderful exceptions, like Tinkers, a fine novel rescued from obscurity by the Pulitzer Prize. Or—a very different case—the most recent recipient of the Nobel, Mario Vargas Llosa, a writer who has been accused of many things, but never of being hard to read.