February 13, 2014 | by Sadie Stein
My colleague Stephen sent along this clipping earlier today, from an 1855 issue of the New York Times.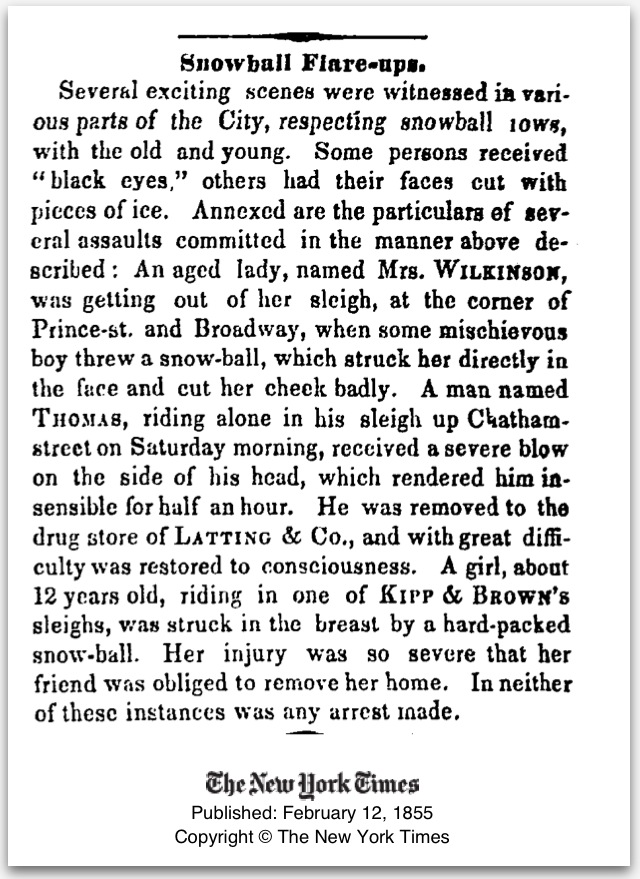 Nor is this the only recorded instance of snowball-related violence.
January 29, 1863: Confederate troops stationed in the Rappahannock Valley in Northern Virginia begin exchanging friendly snowball fire. This escalates to a nine-thousand-rebel brawl.
January 12, 1893: Some rambunctious Princeton sophomores engage in a rock-laced snowball fight. This is the result.
The Great Depression: Snowballs (aka snowcones) are known as "hard times sundaes."
August 17, 1945: Animal Farm is published.
Summer, 1958: My dad (or rather, the boy who will, decades later, become my dad) and his friends decide it will be the coolest thing ever if they freeze snowballs during the winter so they can have a snowball fight in July. First snowball—now pure ice—results in eight-year-old Joel Bernstein taken to the hospital for stitches.
January 7, 2013: A German teacher, hurt in a snowball fight with students, sues the school board and succeeds in getting it classified a work injury.
February 13, 2014: A brother and sister, maybe five and three, are having a snowball fight under my window. She repeatedly screams, "WHY DID THE CHICKEN CROSS THE ROAD? TO GO TO THE BATHROOM!" He throws a snowball at her face; she falls down, crying.
December 6, 2012 | by Sadie Stein
About ten years ago, after depositing my brother at camp, my parents found themselves in a junk shop in upstate New York. My dad came upon the following playbill for The Evil Eye: A Musical Comedy in Two Acts, presented by the Princeton University Triangle Club from 1915 to 1916. He opened the first page and noticed the following: "Book by Edmund Wilson, Jr., 1916," and, a bit further down, "Lyrics by F. Scott Fitzgerald, 1917." Numbers like "Jump Off the Wall" and "Harris from Paris" may be lost to history, but we thought we'd share the program with you nevertheless!