December 20, 2011 | by Adam Thirlwell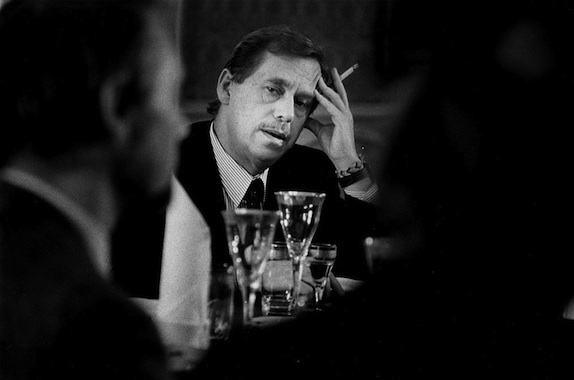 My first memory of Václav Havel is of watching the news as a kid, after the Hanna-Barbera cartoons, and seeing pictures of Havel in his living room: a prison of stuffed bookshelves. For me, Havel was the image of a literary hero, an ideal of literature as integrity.
I've always, in other words, been a sucker for the questions of Prague—especially Prague in the era of Soviet Communism, probably because these questions all relate to a larger problem: a writer's responsibility and resistance to political life, the serious business of being flippant. In the setups of his farcical plays and—following his imprisonment in 1977 for involvement in a human-rights charter—through the patient linguistic analysis of his essays, Havel's subject was always the same: how language can be made to connive in unreality. But he also believed that words could be renovated, that a politics was possible. And this hope led him, for instance, to the courage of the following statement in his 1977 trial: there were certain words, he said, "which recur continually in the indictment and which one would describe as loaded, words like subversion, lies, malice, illegal organizations, anticommunist centers, vilification, hatred and so on. However, when one looks closely at these words, one finds that there is nothing behind them." Just as it made him read Bellow's libertine Herzog, in prison, in these dissident terms: "A professional with 'words' goes mad in a situation where words have no weight. He clearly lacks what we do not, which is to say a situation in which words have so much weight that you must pay quite dearly for them."
This was why, in the summer of 2010, I found myself proposing a Paris Review interview to Havel. I wanted to ask him my own series of Prague questions, about his love of Bohumil Hrabal's stories, the cinema of the Czech New Wave, his intuition of farce ... These questions, basically, were one big question: What was it like for a writer, as he did, to end up in the Presidential Palace?
The Interview, however, turned into a melancholy comedy of its own. Read More »
September 2, 2011 | by Lorin Stein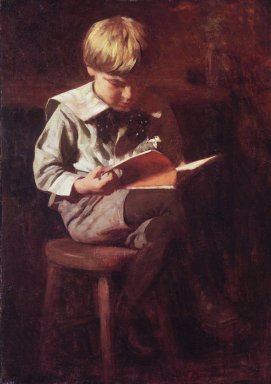 Dear Mr. Stein, May I take advantage of the hospitality of your letters column to ask if you or your readers can help me to solve a small puzzle? I have come across an epigraph ascribed to Proust that heads the first chapter of Hamish Miles's English translation of Édouard VII et son temps by André Maurois (King Edward and His Times, London: Cassell, 1933, p. 1). It reads: "Every social status has its own interest, and to the artist it can be just as compelling to show the ways of a Queen as the habits of a dressmaker. —Marcel Proust." An excellent colleague of mine remarks that this certainly sounds genuine, and he even wondered if the aperçu came from the bit in Le Côté de Guermantes where Proust talks sniffily about grocers writing aristocratic novels, but I am afraid it is not there. Now we find that the epigraph is nowhere to be found in Maurois's original French text, so the plot thickens. Much as I am tickled by the idea of an industrious and I daresay underappreciated translator recklessly concocting a spurious epigraph for the purpose of self-promotion, or worse, something tells me that there is an alternative explanation. So can anyone, do you think, identify these lines about "the ways of a Queen" and "the habits of a dressmaker," and pin them on Proust? Thank you, Angus Trumble
We all hoped it was made up. But no. The epigraph comes from "An Historical Salon," an essay—really, a celebrity profile—that Proust wrote for Le Figaro in late 1902. His subject is the Princesse Mathilde Bonaparte, a niece of Napoleon's and the last Bonaparte to remain in Paris after the fall of the Second Empire. She was known for her literary salons, which included Mérimée, Flaubert, and the Goncourts. In the sentences you quote, Proust has just finished his you-are-there description of one of the princess's soirées and he's gearing up for the mini bio (which, in the case of Princesse Mathilde, is slightly delicate, since she left her first husband, a Russian tycoon, for another man, with the connivance of yet another uncle: Czar Nicholas I; it's good to know people).
As translated in F.W. Dupee's edition of Pleasures and Days, the entire paragraph reads:
An artist will serve the truth only, and have no respect for rank. In his portrayals he will take rank into account as a principle of differentiation like nationality, race, or environment. All stations in society have their interest for an artist, and it is as exciting for him to picture the ways of a queen as the habits of a dressmaker. Read More »