February 19, 2015 | by Daniel Torday
On writers, glass, Pliny the Elder, and the way families pass on their stories.
Since I started writing, I have sought forebears who might have had literary aspirations. Were there writers in the family? My great-uncle György, who was exiled to the Ukraine during World War II and afterward became a functionary in Hungary's Communist government, was a novelist, but my father has always been dismissive of his work. He says György wrote a variety of socialist-realist novel that's hard to take seriously, hard not to see as propaganda. His books have never been translated into English, and my Hungarian isn't nearly good enough to understand what's in them. The only existing copies I know of sit on a shelf in my Cousin Hajnal's house in the Buda Hills. I don't have the heart to ask to take them and have them translated. When I've asked her about them in the past, she's simply said that they are books, yes, and that her father wrote them.
In their stead I have purchased rare used copies of two books written by Frederic Neuburg, author of a large trove of letters to my father's Aunt Traute that he keeps in an old teak box in his house in Los Angeles. My father is not Bellow or Updike, and I am not the son of Bellow or Updike, but it is the book I have, in two editions, an art book containing photographs of Neuberg's glass collection and extensive commentary on the pieces. Read More »
March 5, 2012 | by Thomas Beller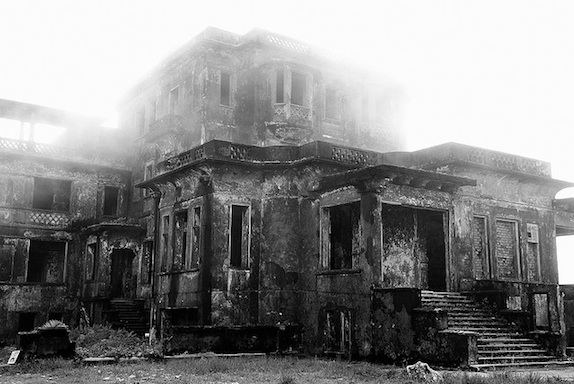 I was at the last show of the night in a movie theater in New Orleans, and I stepped out midway to go to the bathroom. The movie was loud, cacophonous, upsetting—a documentary about Hurricane Katrina and its aftermath. As I peed, I stared absentmindedly at a tile in the wall in front of me.
There was nothing remarkable about this tile, but I felt an involuntary shiver. I was alone in the bathroom, but it occurred to me that the bathroom itself had once been alone and empty—for days, weeks, maybe months during the hurricane and evacuation. It had been frozen in time like the figures in Pompeii but without any bodies to be captured in mid-life, mid-gesture. Instead, what had been captured, what resonated, was a stillness that persisted even now, after the city had ostensibly come back to life.
Cities are not meant to be emptied. Most of them never are. Even in their quietest hour they have a rustling sense of breath. But I had once spent time in another city that had also been emptied: Phnom Penh, which was evacuated under the Khmer Rouge.
Phnom Penh was, from the moment I saw it in 1994, a place that refused comparison. At first I accepted this. I had come for new experiences and I was happy, if often unnerved, to let new experiences prick me with their unfamiliarity. But then I began to feel a certain resistance in me, an effort to corral all the stimulation and make it adhere to a context with which I was familiar. I was trying, as I always did, to see Phnom Penh through the lens of my hometown, New York. Read More »