Posts Tagged 'Poets House'
August 20, 2014 | by Dan Piepenbring
The Paris Review was saddened to learn that Deborah S. Pease—a poet, our former publisher, and a longtime supporter of the magazine—died in Boston earlier this week. She was seventy.
Pease was The Paris Review's publisher from 1982 to 1992. She was a generous benefactor: in addition to her work with the Review, she supported Poets House and the Poetry Society of America, and she went on to help found A Public Space, whose editors write, "For her one of the truest ways to value art was to share it."
An accomplished poet, Pease found a home for her work in the Review as early as 1977, and she returned to these pages often over the next decades; her work could be found in The New Yorker, AGNI, and Parnassus, among others, and in 1999 collected her poems in Another Ghost in the Doorway. She was precocious, too—a short story, "Doubt," appeared in The New Yorker when she was only twenty-three, and her novel, Real Life, came not long afterward, in 1971.
Below is her poem "Self-Portrait in Iceland," published in our Summer 2010 issue. Read More »
February 17, 2012 | by The Paris Review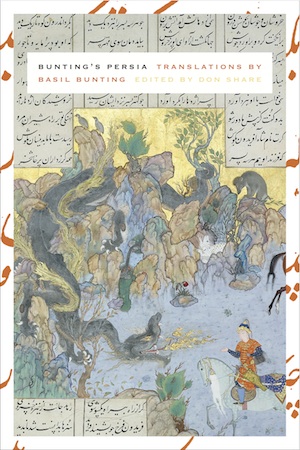 In you're in the New York area, tomorrow is the last day to see the unmissable exhibition of rare Emily Dickinson manuscripts and letters at Poets House. This is the first time much of this material has been on view; who knows when it will be again. It's also worth making the trip to see poet and artist Jen Bervin's striking quilts, which are stitched according to the symbols and corresponding variant words in Dickinson's fascicles. —Nicole Rudick
In the early 1930s, the young English poet Basil Bunting taught himself Farsi with a dictionary and a copy of the Iranian national epic, the Shahnameh, given to him by Ezra Pound. ("It's an easy language," Bunting explained, "if it's only for reading you want it.") The translations he made are collected in Bunting's Persia, a slim book, including excerpts from the Shahnameh and lyrics like this one by Sa'di:
Without you I've not slept, not once in the garden
nor cared much whether I slept on holly or flock,
lonely to death between one breath and the next
only to meet you, hear you, only to touch ...
I read it on Valentine's Day. —Lorin Stein
This week I found myself fascinated by the New York City Graffiti & Street Art Project, an experiment by the library of Lewis & Clark college that charts the most interesting examples of street art across the city, sorted by neighborhood, media type, subject, and more. —Deirdre Foley-Mendelssohn
I just stumbled upon this breezy interview with cartoonist Lee Lorenz from last year. Part of The Comics Journal's "Know Your New Yorker Cartoonist" column, the conversation is an endearing remembrance of a life in pictures, with the added pleasure of some insider gossip. —Josh Anderson
Try Pär Lagerkvist's The Dwarf for a healthy dose of fiery medieval homuncular misanthropy. Great reading material for long, slow queues, crowded subway rides where even the conductor is exasperated, and angry times in general. —Emma del Valle
Seventeenth-century love letters, Latin bibles, a Shelley manuscript, and English children's stories: I've suddenly discovered the Morgan Library's blog. —D.F.M.
It's official: I have an extreme case of Linsanity. —Natalie Jacoby