September 18, 2014 | by Dan Piepenbring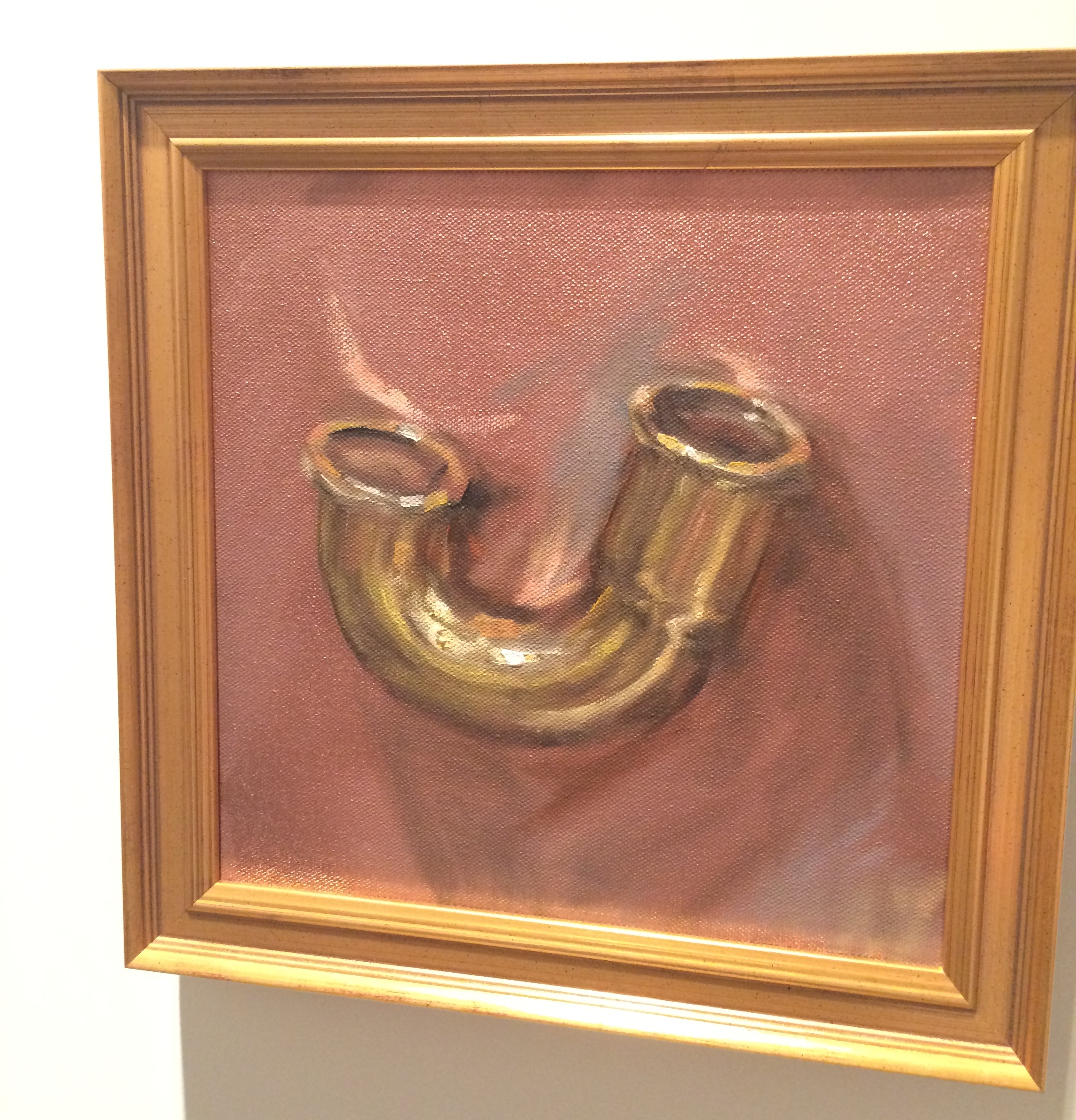 It was 1917 when Marcel Duchamp debuted Fountain, that perennially scandalous urinal, that Dadaist taunt, that porcelain keystone. Since then, befuddled museumgoers worldwide have asked, "How is that art?"; about half a dozen performance artists have made a show of peeing on, in, or around one of the many replicas of Fountain; and, at the Pompidou Center, one guy threw a hammer at it. But now, in 2014, the artist Alexander Melamid has outdone them all: he's reconnected the urinal to plumbing. It flushes anew. And through its pipes, he hopes, will flow more than a century's worth of the art world's built-up shit.
Melamid's new exhibition, "The Art of Plumbing," opened last night at Vohn Gallery. It comprises paintings of assorted plumbing components—sometimes superimposed on canonical works by, say, Picasso or Rothko—with names like Form-N-Fit 1-1/2 Flanged Tailpiece, Large Drain Cleansing Bladder, and The No Clog Drain, Permaflow. At its center, atop a kind of plinth, is a fully functional urinal, its working parts very much visible.
"Modernism in art began in earnest with that urinal, severed from the sewage system. It was a truly revolutionary act," an accompanying statement read. And yet, as the twentieth century wore on, artists descended into meaningless self-referentiality and the pursuit of wealth, thus necessitating another revolution:
Having acquired the skills to wield both pipe and wrench, the artist Alex Melamid will successfully perform an aesthetic coupling that will flush the human as well as the elephant waste from our great museums. Once sent down the drain and into the sewage system, this effluvial excess will affront the senses of public no longer.
September 2, 2014 | by Sadie Stein
Late this morning, the pipes of my toilet began to make a noise that I can only describe as haunting. How to explain it? Loud, very loud. Sad, very sad. A sort of melancholy lowing, a primal moan expressing things seen and unseen. One could imagine ancient peoples hearing such things and looking to the supernatural for answers. If they had plumbing, I mean.
It went on and on. It was beautiful. I had been distracted, blue, depressed by the unrelenting humidity of an urban Tuesday on the day after a long weekend. And then I heard the mysterious sound and it calmed me. For the first time, I began to understand the New Agey penchant for whale songs.
I thought I had better look up "toilet groaning" on the Internet and see if it was something I could manage myself. I'm no plumber, but I grew up in a house with very uncertain old pipes, and in such cases you learn to do what you can. It's very satisfying when you learn to do these things yourself, if you do. And I know an air vent malfunction when I hear it.
But somehow on my way to the computer, I found myself going to the bookshelf, and picking up Moby-Dick, and paging through it, and then, twenty minutes later, there I was, sitting on the floor, reading.
Why did the old Persians hold the sea holy? Why did the Greeks give it a separate deity, and own brother Jove? Surely all this is not without meaning. And still deeper the meaning of that story of Narcissus, who because he could not grasp the tormenting mild image he saw in the fountain, plunged into it and was drowned. But that same image, we ourselves see in all rivers and oceans. It is the image of the ungraspable phantom of life; and this is the key to it all.
It was at this point that things started gurgling, and of course then the toilet overflowed. I turned off the water source, mopped up, and notified the super.