Posts Tagged 'Philip Guston'
November 24, 2014 | by Nicole Rudick
Gladys Nilsson was born in Chicago in 1940 and grew up visiting the Art Institute of Chicago, which she then attended from 1958 to 1962. In the mid- to late sixties, she was a member of the Hyde Park–based art group the Hairy Who and created exuberant figurative paintings using both acrylic on Plexiglas and vibrant watercolors on paper. While at SAIC, Nilsson studied with the art historian Whitney Halstead, who taught his students to look beyond Western art and also beyond traditional realms of art to more vernacular sources. Though Nilsson has periodically integrated cut-paper elements into her paintings since the sixties, she has recently begun to make heavily collaged works, in the series "Plant" (2010) and "A Walk … " (2014). But perhaps none of Nilsson's work exemplifies Halstead's directive better than the collages currently on view at Garth Greenan Gallery, in New York. The series, called "A Girl in the Arbor" (2013), comprises thirteen lush works, each of a woman sitting on a brown chair under a blue arbor and surrounded by greenery. The surface of each collage is littered with tiny cutouts, some of which compose and adorn the large female figure; many others seem oblivious to her and are engaged in their own affairs. 
I met Nilsson the day before her show opened late last month, and we talked over the phone a few weeks later—she, in Chicago, where she still resides—about the intricacies in these collages, her experiences as a budding art student in the city, and the horror of trying on swimsuits. 
You visited the Art Institute as a grade-school student and then as an art student, and you've said that in that time, it changed from a nineteenth- to a twentieth-century institution. What did you mean?
What I meant when it changed from being a nineteenth-century building into a twentieth-century is that the building had been modernized. Things were hung in new places, and some galleries were configured differently.
When I was in grade school, a friend and I—she and I drew cows—would walk around a bit in the museum, and I remembered a catwalk in the back, over a large area that no one ever went to, that had large plaster casts of building facades and statuary from other times and other places. It stuck in my mind because it was a very curious area. So when I went to school there, I spent a lot of time trying to figure out where this area was. But I couldn't find it. At first I thought I had imagined the place, until I discovered old pictures in the archives of the museum.
Do you recall looking at Seurat's painting at the institute?
Yeah, very much so. I wasn't necessarily crazy about it. I liked it, but it wasn't a favorite. But I found sitting and looking at it because it had a nice bench in front of it. That it was one of the most soothing things for me—not that I was in turmoil. It was just a very quiet experience, because Seurat has got a lot going on surfacewise. But then it's also an extremely static painting. I spent a lot of time looking at it, and it's probably the one painting that I remember most, aside from Jackson Pollock's Blue Poles, which is a whole other thing. Read More »
June 10, 2014 | by Joseph Akel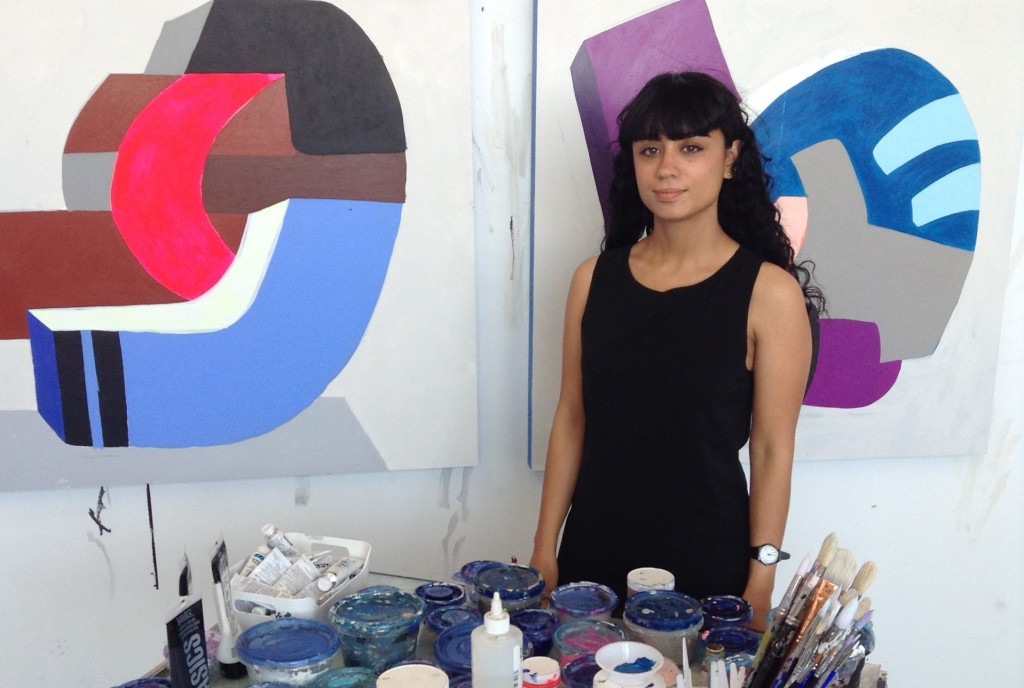 My first encounter with artist Hayal Pozanti was the lucky happenstance of a predetermined seating arrangement: she was placed across the table from me at a dinner celebrating Jessica Silverman Gallery, which represents Pozanti on the West Coast. We spent the evening in deep discussion on the finer points of photographic theory and discovered a shared interest in the writings of Friedrich Kittler. Agreeing to stay in touch, I found myself in New York for Frieze Art Fair and decided to pay a visit to Pozanti's studio in Queens. She was born in Istanbul in 1983, and moved to New York in 2009. In a small, partitioned space with views looking over the East River toward Midtown Manhattan, we talked about her current body of work, which will be exhibited later this year at the Prospect New Orleans biennial and at the Parisian iteration of the Foire Internationale d'Art Contemporain.
With my recent paintings, I've been thinking a lot about Ken Price, Philip Guston, and Allan McCollum. And, of course, I always come back to Giorgio Morandi—I think about him regularly. I find that a common ground for all of these artists was the ability to create, through figurative abstraction, a world parallel to the one we live in. As a Turkish immigrant who has moved from place to place, who speaks several languages, I'm intrigued by the possibility of creating a universal language to unite my cross-cultural experiences. When I think back to my childhood in Istanbul—even to my time as a young professional there—I was always concerned with the question of acceptance and with the idea of unifying people. Read More »