Posts Tagged 'performance art'
July 23, 2014 | by Romy Ashby
A companion to yesterday's piece by Edgar Oliver.
For a long time, whenever I visited Edgar Oliver on East Tenth Street, I would look at his mother's wonderful paintings. They hung all over his crumbly walls and because it was always night when I visited, they were amber lit from the lamps sitting here and there in Edgar's living room. Whenever I looked at the paintings, I would feel a pang at the thought that I'd never get to meet her. When I decided that I wanted to make Louise Oliver the subject of the third issue of my magazine, Housedeer, Edgar brought out portfolios filled with her drawings for me to see and we looked at them together, sitting on the floor. It seemed as though his whole childhood, and his sister Helen's too, had been recorded in pencil by Louise. She must have drawn her children constantly, and she drew cemeteries and swamps and old houses and churches and ordinary people going about their business on the streets of Savannah, where they lived. Many of her drawings included detailed notes to herself on the colors of everything in them, so she could use them later to make paintings. Edgar told me that he and Helen were raised to be artists.
I wanted to ask Regina Bartkoff to do a drawing for Louise's Housedeer cover because while she and Louise have very different styles, there is something about each of them that reminds me of the other. To my eye, the beauty of Regina's drawings is in their mystery and their innocence. And I think if I had to choose one word to describe what Regina and Louise have in common in what they've made, the word innocent might be a good one. Honest would be another. When I told Regina what I wanted, it had been more than a year since she had done any drawing at all, the reason being that she and her husband, Charles Schick, had just finished doing a play by Tennessee Williams called In the Bar of a Tokyo Hotel. The play was put on in the gallery they have use of on East Third Street, and they had not yet come out of that other world. Regina and Charles love theater and they love painting (Regina loves drawing too), but when they do a play, it is all-consuming. Regina was still waking up as Miriam, her character in the play, and feeling the kind of lost that theater people often feel when the play is over. Read More »
May 7, 2012 | by Jillian Steinhauer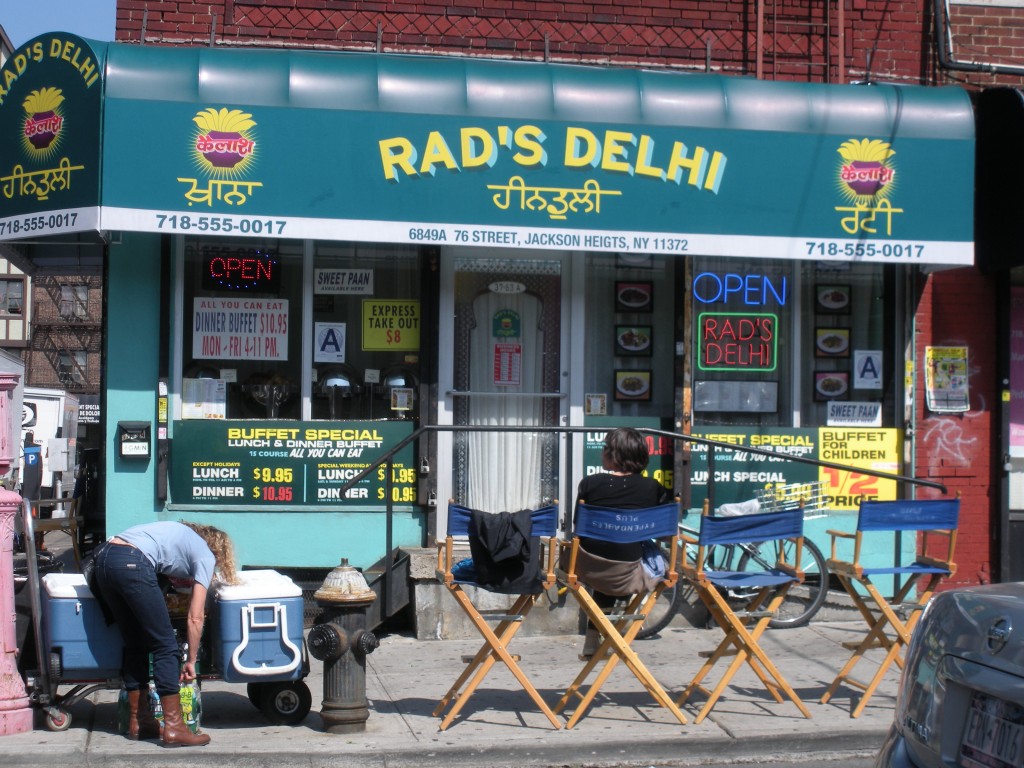 I'm sitting in an apartment in Jackson Heights, Queens. It's a nice apartment, with decidedly un-Ikea furniture and mild-mannered art on the walls. It feels well kept but welcoming, gently used. The room I'm in is a classic New York living/dining-room combo, its zones delineated by, on the one hand, a multicolored wood table and, on the other, a sleek white couch.
The couch looks surprisingly comfortable, but I have no idea if it is; I'm sitting back-to-back with it, on a triangular block of foam. There's a semicircle of these foam stools filling the room's neutral territory and six people sitting with me. As we wait in awkward and anticipatory silence, I notice the sunlight streaming in from the windows. It glosses the shiny floors, which stay that way, I assume, because everyone who enters this apartment has been told to remove her shoes, just like in my home growing up.
I don't know who lives here. According to a map the Guggenheim has given me, this is "Erin's House." Erin is nowhere to be found, but she has generously loaned out her living/dining room for a few weekends in April and May, for a project called Stillspotting. As its name implies, the project is a search for still spots—quiet spaces, moments of respite, refuge from chaos—in New York.