Posts Tagged 'Pee-Wee Herman'
August 27, 2014 | by Gary Panter
Remembering Ray Johnson through his pioneering correspondence art.
Ray Johnson thought he was ugly, but I thought he looked cool—just like Ray Johnson.
Being a teenage modern-art fan in Texas in the sixties, I was excited to learn of the New York Correspondence School from Eye magazine, or maybe it was Artforum or Print. Ray, whose early abstracted celebrity photos and painted collages I had seen featured in the pages of many histories of Pop, was encouraging artists all over the world to make and trade mail as an art activity, an idea readily appreciated in the midcentury's burst of experimental and novel art approaches. Thousands of people began to send art objects to each other through the postal service.
My notion was that Ray didn't make the first piece of mail art, but his creation of a school around that activity was the benediction for a folk-art movement in motion. Some of these letters were finished statements or handmade objects; others were exquisite corpses conducted by mail, objects that traveled and accumulated the mojo of human touch and attention as they were ever modified. The latter was the kind of thing Ray did: he mailed objects and letters and asked the recipients to add to them and then return them, or send them along to other destinations. Ray's handmade work, cryptic and rarely seen, was striking, sure, but humorous, too, a quality I really like in art. It had a purposive childishness, but also a readily appreciable design rigor—a controlled looseness, beautiful color, shape and textural sense, a mastery of a private hieroglyphics of bunnies and goo-goo eyes. Read More »
August 27, 2012 | by Charlotte Strick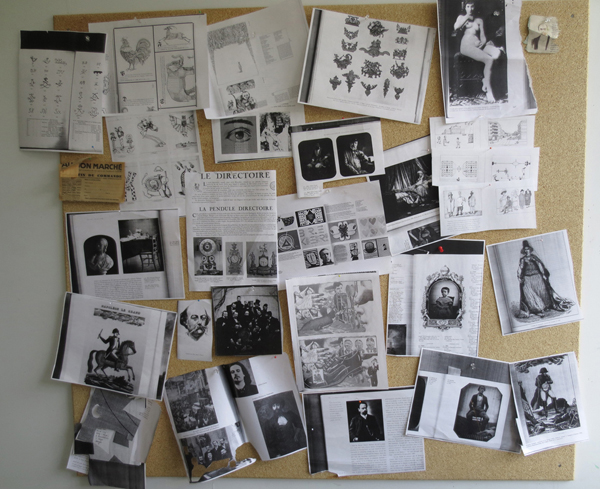 Joanna Neborsky is a book lover's illustrator. She may be as passionate and romantic about books and bookmaking as anyone I've met. She also draws the kind of pictures I've always wanted to make. They are deceptively simple due to the naive charm of each wobbly line, and they owe a great deal to the inspiration of mid-twentieth-century illustration—an obsession she and I both share. A few years ago Joanna and I collaborated on the cover of John Bowe's Americans Talk About Love. A recent art school grad, she was willing to endlessly modify caricatures of the people interviewed for the book. The final package made for a witty and accessible take on social history. I always urge the artists I work with to keep me apprised of new projects, and so a few weeks ago I was tickled to discover a jpeg of Joanna's poster "A Partial Inventory of Gustave Flaubert's Personal Effects, As Catalogued by M. Lemoel on May 20, 1880, Twelve Days after the Writer's Death" in my inbox. We had to share it with readers of The Paris Review, and now I wanted to share a little about how it came to be.