June 23, 2014 | by Dan Piepenbring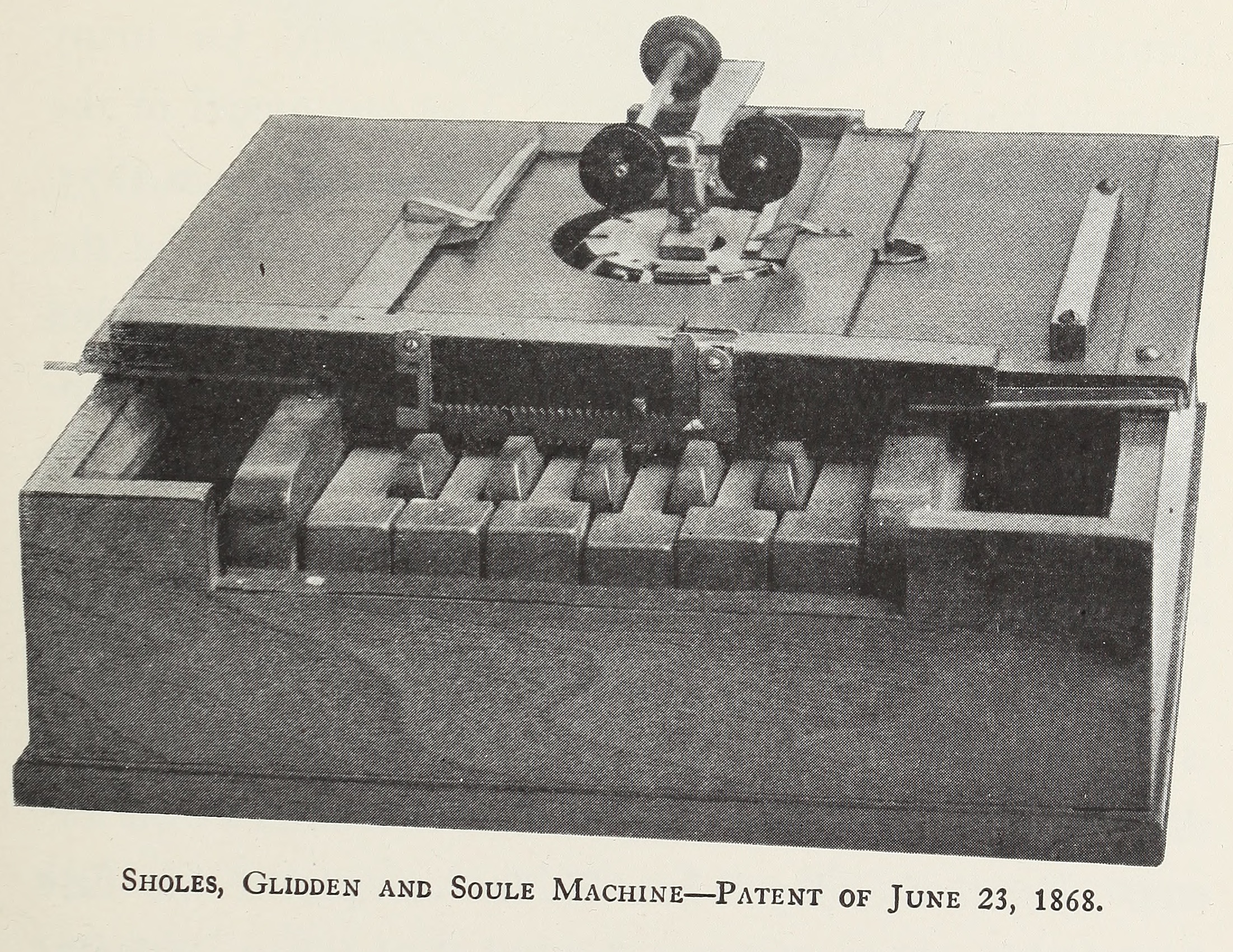 The history of the typewriter is, as with the history of the personal computer after it, rife with collaboration, ingenuity, betrayal, setbacks, lucre, acrimony, misguided experimentation, and bickering white men. There are rough analogs for Bill Gates and for Steves Jobs and Wozniak (though there's no one so delirious and insane as Steve Ballmer)—and one such analog is Christopher Latham Sholes, a Milwaukee printer whose first "type-writer" was patented 146 years ago today.
Sholes is widely credited with having invented the first QWERTY keyboard. It helped to prevent jams and increase typing speeds by putting frequently combined letters farther apart—but that took years of trial and error; the initial iteration of his typewriter was far more rudimentary in design. It looks like a miniature piano crossed with a clock and/or a phonograph and/or a kitchen table—and Sholes did, in fact, design the prototype out of his kitchen table. As you can imagine, it didn't boast what today's designers would call "intuitive UX." Its keys, borrowing from innovations in telegraphy, were arranged as such:
3 5 7 9 N O P Q R S T U V W X Y Z
2 4 6 8 . A B C D E F G H I J K L M
Notice the absence of 0 and 1; Sholes and his cohort assumed that people would make do with I and O. They also couldn't be bothered with lowercase letters—the first Sholes model was in a condition of eternal caps lock, doomed to permanent shouting. And yet in another sense Sholes was full of intuition and prescience: purportedly, the first letters he typed on the machine were "WWW." Read More »
February 25, 2014 | by Dan Piepenbring
178 years ago today, in 1836, Samuel Colt was granted a U.S. patent for his revolver, which he called "a new and useful Improvement in Fire-Arms," those most brutally useful of devices. As EDN (Electrical Design News) noted last year, Colt's design "was a more practical adaption of Elisha Collier's earlier revolving flintlock. It included a locking pawl to keep the cylinder in line with the barrel, and a percussion cap that made ignition more reliable, faster, and safer than the previous designs." (This is much more edifying when you learn what a pawl is: "a pivoted curved bar or lever whose free end engages with the teeth of a cogwheel or ratchet so that the wheel or ratchet can only turn or move one way.")
If you can refrain from asking yourself what sort of man would want to invent a more efficient killing machine, Colt's patent is worth reading, or at least skimming, for the sense it gives of technical writing in the mid-nineteenth century: it's a strict, unvarnished account of how a thing works, surprisingly direct in its syntax, and full of great machine-age terms like pawl, arbor, shackle, ratchet, and mainspring. Today, when technical writing is a muddle of jargon and pleonasm, it's pleasing to see how accessible this patent is—all the more so because it's such a famous invention. Granted, this isn't scintillating reading by any stretch of the imagination, but if you sat down with a tall urn of coffee and summoned your very best self's powers of concentration, you could actually learn how to craft and operate a fucking gun.
Take this sentence, for example: "Fig. 9 is a spring, which holds the rod, Fig. 5, toward the hammer, that the connecting-rod may catch in a notch at the bottom of the hammer to hold it when set." See? Lucid, if not limpid. In other places, the simple declarative sentences accrue in rapid sequence, achieving an almost poetic cadence, or at least an admirable degree of compression: Read More »