January 6, 2014 | by Sadie Stein
I moved to Greenpoint, in North Brooklyn, on the heels of a breakup, and although I lived there for years, in my memories it is always somehow winter. While I was hardly a pioneer in the neighborhood—a recognizable mumblecore actor lived one fire escape away—ten years ago it was still a far cry from today's full-on Girls-level gentrification; friends still griped about taking the unreliable G train to come visit, and more than one said that the rent had better be pretty cheap to justify the schlep. It was.
To those who know the area, this was just off of Monsignor McGolrick Park, a twelve-minute walk from the Nassau Avenue station. At first glance the apartment was unprepossessing, but after I had pulled up the stained carpet, painted the walls a vivid blue, found a copper leaf sculpture at a thrift store, and sewn a gaily-patterned bark-cloth curtain to separate the bedroom, I fancied it was cheerful, in a vaguely retro-modern way. There was also a fire escape large enough for a table and chairs, not to mention a few pots of nasturtiums and some basil in the summer, even though, again, my primary memories involve snow.
I had chosen the neighborhood because it was one of the few where I could both afford to live alone on my shopgirl salary and also feel safe walking alone at night. But I had not been living there long when I met M., and he kind of just moved in by osmosis. It was never a formal arrangement, but I didn't like going to his roommate-filled bachelor pad three trains away, and we were young enough that this sort of thing seemed normal. Read More »
August 29, 2013 | by Nikkitha Bakshani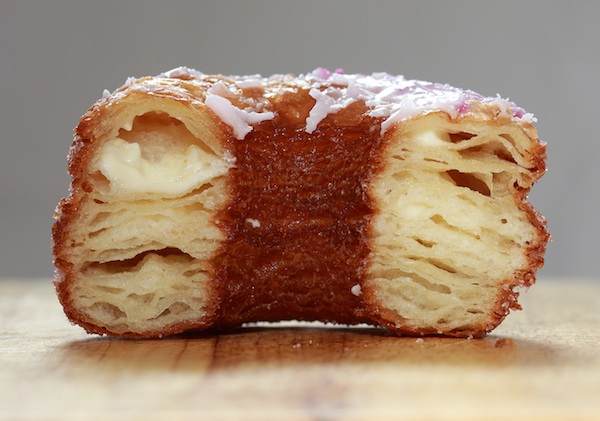 "I'm embarrassed to be on this line," says a woman in exercise clothes, bending forward to undo her ponytail and swirling it back into a limp bun. It is 6:15 A.M.. Given our errand, I am struck by the number of people in workout gear.
We are on the fabled cronut line. For those who have been spared the media blitz: every morning, hundreds of people queue up under the gingko trees near Dominique Ansel's Soho bakery for the instantly iconic donut-croissant hybrid. Ansel patented the name after other bakers—from Fort Greene to Jakarta—began frying ring-shaped croissants, forcing them to fumble for alternative nomenclature: zonuts, frizzants, cronies, doissants. The cronut has, famously, paved its own black market; those who want to avoid the line can by them on Craigslist for an 800 percent markup. Want twenty delivered to you by professional line waiters? That'll be $5,000.
The idea of braving the line arose during a conversation in the hologram-like stage of a new friendship. It would be cool to get to know each other while we wait on line, right? Right? Initially, I naively envisioned something akin to the line outside Magnolia Bakery in 2009; curling just around the block, the commitment of a few minutes. A brief Internet search quickly informed me otherwise. Still, without too much reluctance, we decided to go anyway; partly for the story, partly for the taste, largely just because we could.  
"We're only here because we were jet-lagged," says the Canadian tourist in front of me, adjusting her Lululemon groove pants.
"Oh, me too," the bespectacled older woman in front of her chimes in, clutching a newspaper to her chest. "I woke up in the middle of the night to get water, but tripped on my husband's suitcase." She points to her apartment's window, above a bistro with a French name, where men in baseball caps are unloading boxes from a Naked Cowboy Oysters truck. "I couldn't go back to sleep so I came here." Read More »