August 29, 2013 | by Nikkitha Bakshani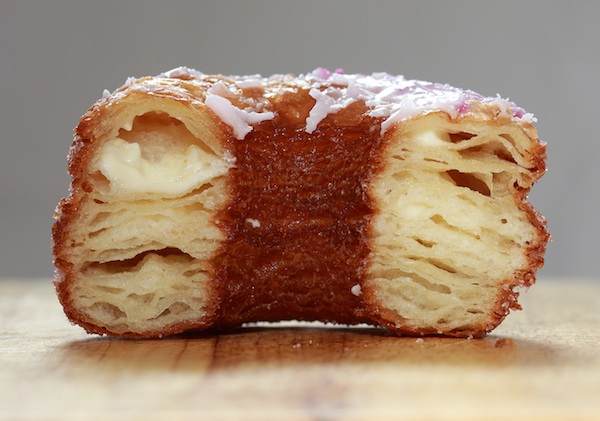 "I'm embarrassed to be on this line," says a woman in exercise clothes, bending forward to undo her ponytail and swirling it back into a limp bun. It is 6:15 A.M.. Given our errand, I am struck by the number of people in workout gear.
We are on the fabled cronut line. For those who have been spared the media blitz: every morning, hundreds of people queue up under the gingko trees near Dominique Ansel's Soho bakery for the instantly iconic donut-croissant hybrid. Ansel patented the name after other bakers—from Fort Greene to Jakarta—began frying ring-shaped croissants, forcing them to fumble for alternative nomenclature: zonuts, frizzants, cronies, doissants. The cronut has, famously, paved its own black market; those who want to avoid the line can by them on Craigslist for an 800 percent markup. Want twenty delivered to you by professional line waiters? That'll be $5,000.
The idea of braving the line arose during a conversation in the hologram-like stage of a new friendship. It would be cool to get to know each other while we wait on line, right? Right? Initially, I naively envisioned something akin to the line outside Magnolia Bakery in 2009; curling just around the block, the commitment of a few minutes. A brief Internet search quickly informed me otherwise. Still, without too much reluctance, we decided to go anyway; partly for the story, partly for the taste, largely just because we could.  
"We're only here because we were jet-lagged," says the Canadian tourist in front of me, adjusting her Lululemon groove pants.
"Oh, me too," the bespectacled older woman in front of her chimes in, clutching a newspaper to her chest. "I woke up in the middle of the night to get water, but tripped on my husband's suitcase." She points to her apartment's window, above a bistro with a French name, where men in baseball caps are unloading boxes from a Naked Cowboy Oysters truck. "I couldn't go back to sleep so I came here." Read More »