Posts Tagged 'Paranormal'
October 20, 2016 | by Wei Tchou
Seeking out spirits in one of New York's spookiest bars.
You'd think it'd be relatively easy to pin down a ghost in this town, with all of its historic buildings and unsettled scores. Most of the haunts frequented by the city's cognoscenti are said to have an apparition or two knocking around, if you believe in that sort of thing. There's the shadowy figure that paces the shore of Rockaway Beach. A young girl's screams are sometimes heard coming from within McCarren Pool. And from the stories told about the Brooklyn Bridge, you'd think its walkway would be incandescent with floating orbs and strange lights.
After hearing that a glamorous specter often manifests and smokes sullenly in a corner of the women's restroom at the Astor Room in Queens, I drank far too much wine and drifted in and out of the bathroom stalls a few weekends ago, but to no avail. And returning home in the early hours that morning, I thought of the original owner of my apartment building, who hanged himself from the front-door frame in 1890. He, too, has yet to materialize.
So I stopped by the perennially spooky KGB Bar in the East Village after work one night last week to see if Dan Christian, the longtime bar manager, might act as my spirit guide. I'd always heard that the bar was very haunted. Read More »
May 9, 2012 | by Rachael Maddux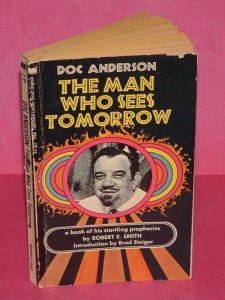 For a while after college, one of my husband Joe's best friends worked at a used books–and-CDs store in Chattanooga, Tennessee, where we all grew up. It was called McKay but everyone called it McKay's—a tiny but somehow crucial distinction—and it was a wonderland of dog-eared pages and scratched ninety-two-cent discs and ineffable smells of humanity. Michael was always bringing home strange treasures that he'd eventually sell back for the exact amount he'd paid, but sometimes things would be too good not to hold onto. One summer Joe's birthday merited a particularly special gift: a slim black paperback with a creased cover bearing a photo of a goateed man staring out from the center of a pink orb. Flaming rainbows flanked him on either side, and rays of light shot out from underneath his likeness. If anyone ever warranted such a wonder of post-midcentury graphic design, it was surely this man, Doc Anderson, who was, as his book cover proclaimed in yellow caps, THE MAN WHO SEES TOMORROW.
The book was published in 1970, its spine proclaiming it a "Paperback Library Occult Original" (retail price: seventy-five cents). It's part biography and part defensive exegesis of Anderson's psychic pronouncements, all researched and compiled by Robert E. Smith, which seems to be a pseudonym for one Warren B. Smith, who penned dozens of books on paranormal and cryptozoological subjects during his decades-long career. (A sampling from his bibliography: Let's Face Facts About Flying Saucers, 1967; Strange Abominable Snowmen, 1970, Lost Cities of the Ancients—Unearthed!, 1976; and, inexplicably, The Sensual Male, 1971.)