November 5, 2015 | by Ben Pfeiffer
Baseball and Hemingway in Kansas City.
Ninety-eight years and twenty-one days ago—October 15, 1917—a kid moved into a boarding house in Kansas City. He was a nobody, then, but his uncle, Alfred Tyler Hemingway, had gone to school with the Kansas City Star's main editorial writer, and, through the magic of nepotism, had secured his nephew a job. The young reporter was to cover fires and crimes, as well as the General Hospital and Union Station—a beat known, colloquially, as the Short-Stop Run.
This Tuesday, as many as eight-hundred-thousand people turned out to celebrate the Kansas City Royals' World Series victory at that same Union Station where Ernest Hemingway once met the Chicago Cubs on their way to spring training. Fans pressed up to barricades as the parade unwound along its two-mile route. Confetti cannons blasted blue and white paper into the sky. People applauded for the ballplayers whose names and call numbers were stitched on thousands of shirts. They yelled for Royals manager Ned Yost and for Mayor Sly James. Among the people northwest of Washington Square Park, my wife and I could hardly move. Read More »
July 12, 2012 | by Jenny Hendrix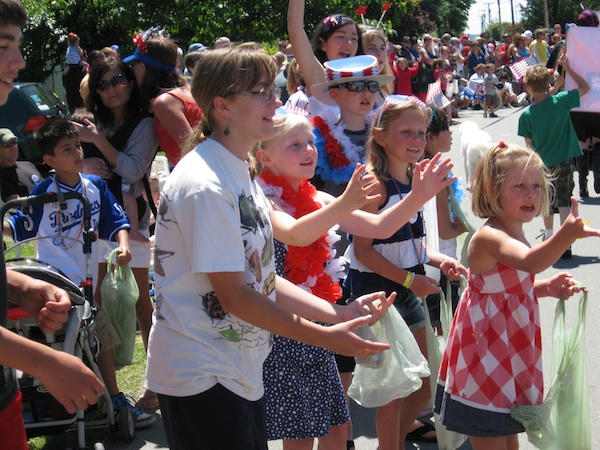 The town that I grew up in holds what people like to call, with a kind of pride in poverty, the World's Shortest Parade on the fourth of July. A number of small towns make similar claims, but our parade, next to the beach on Maxwelton Road in Clinton, Washington, deserves it. From the field by the old Steiner farm it continues just two blocks, ending at Dave Mackie park, where a series of foot, sack, and three-legged races are run and the national anthem sung. It's not required to register in advance to march; one simply arrives and lines up in either a motorized or non-motorized line. This year, the parade's ninety-seventh iteration, the lineup included a number of dogs, a few Republicans, one guy in a gorilla suit, many bikes (some of them "Occupied") and a truck full of violinists. As we waited for the start, a bored-looking high school baseball team called the Crabs slouched, chins in hand, on their hay bales, and a grandmotherly woman in a mermaid costume had her picture taken with one of two groups of pirates.
Read More »