August 24, 2015 | by Brian Cullman
There was a time when I didn't know Gordon Bishop, but that time's not worth talking about.
I met Gordon in his shop, Tropics, sometime in the early eighties. I'd been walking through Soho and noticed a store I hadn't seen before. Inside was a jumble of Javanese antiques—carved doors; four-poster beds; objects that seemed decorative, ceremonial, and incomprehensible—along with fabrics and wall hangings and kites and sculptures. It looked like Santa's workshop, if Santa had a penchant for priapic statues of half-dressed men with enormous erections and wicked smiles.
No one seemed to be working there, but I heard flute and gamelan music coming from the back room. There was a curtain separating me from the music, along with the sort of velvet rope commonly seen in discos, and a hand-painted sign fixed to the rope: DO NOT ENTER. Read More »
November 28, 2011 | by Avi Steinberg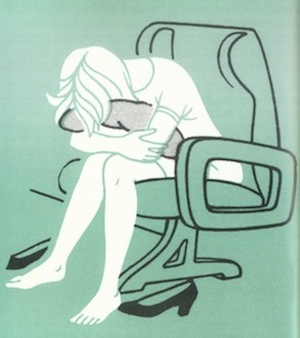 Because I do not want to die in the brawny arms of an industrial-kitchen-fixtures salesman from Tulsa—at least, not one I've only just met—I don't much care for airline travel. During a recent trip from Salt Lake City, my Boeing 757 began to lurch and heave and make dreadful noises. At times we seemed to be in free fall. I caught the look on our veteran flight attendant's face as she rushed by: it was genuine fear. During one particularly terrifying plunge, I felt the brawny fingers of that kitchen-fixtures salesman inching toward me, tugging at my sleeve. I needed an escape. I reached into the seat pocket in front of me.
At 33,000 feet, and falling, we are presented with roughly the same options as on earth. First, we get the in-flight magazine's glossy parade of petit bourgeois distraction. But, face it, when your plane is going down, what good is a recipe for a quick and easy hake with hazelnuts and capers? For those seeking something more directly relevant, there's the Sartre-esque barf bag. But for those of us who occupy that metaphysical middle ground between the in-flight magazine and the barf bag, there's the airline safety card.