Posts Tagged 'ornithology'
November 26, 2012 | by Sadie Stein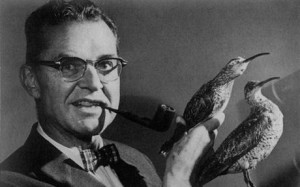 James Bond was a well-known ornithologist. His Birds of the West Indies is an unusually rich source of names. According to Bond, the Sooty Tern is also known as the Egg Bird; Booby; Bubí; Hurricane Bird; Gaviota Oscura; Gaviota Monja; Oiseau Fou; Touaou. But when the keen birdwatcher Ian Fleming needed a name that sounded as ordinary as possible, he had to look no further than the title page of Bond's great work. Why does the name of an actual ornithologist sound so right as the name of a fictional spy? Why couldn't Fleming have used another pair of common monosyllables—John Clark, say? Bond is a solid, blue-chip, faith-giving kind of a name. Who wouldn't prefer a government Bond under their mattress (we're talking AAA British) to a petty clerk? Is your word your clerk? I don't think so. Bond. It's in the name.
—Colin Burrow, London Review of Books
[tweetbutton]
[facebook_ilike]
May 4, 2012 | by Sadie Stein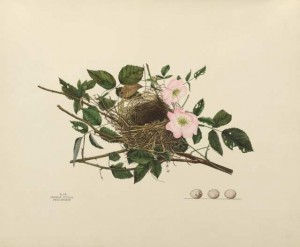 Here is a lovely story: a book finding a well-deserved audience 125 years after the author self-published it. The book is Illustrations of the Nests and Eggs of Birds of Ohio, and the author a twenty-nine-year-old naturalist and illustrator named Genevieve Jones. To quote the Princeton Architectural Press,
Inspired by viewing Audubon's lithographs at the 1876 World's Fair in Philadelphia … Genevieve Jones began working on a companion volume to The Birds of America, illustrating the nests and eggs that Audubon omitted. Her brother collected the nests and eggs, her father paid for the publishing, and Genevieve learned lithography and began illustrating the specimens. When Genevieve died suddenly of typhoid fever, her family labored for seven years to finish the project in her memory. The original book, sold by subscription in twenty-three parts, included Presidents Rutherford B. Hayes and Theodore Roosevelt among its subscribers. Only ninety copies of the original book were published in 1886, and fewer than twenty-five copies now remain in institutions and private hands.
In PAP's America's Other Audubon, author Joy Kiser reproduces all sixty-eight of Jones's color lithographs, as well original text, photographs, field notes, and a key to eggs and birds. It's a boon for those with an interest in natural history or ornithology, of course, but we are as engaged by the personal story as the beauty of the book itself. An enduring memento indeed.