February 24, 2012 | by The Paris Review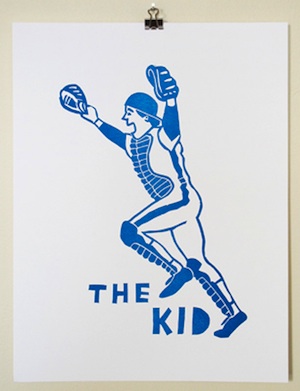 I am so excited to visit this Djuna Barnes exhibition at the Brooklyn Museum: it's an archive of her New York journalistic work between 1913 and 1919, frequently illustrated by the budding modernist herself. —Sadie Stein
"John had many moving parts, exploding in as many directions as one of his sentences," writes Jen Nesselin in one of the rememberances that round out the new collection of John Leonard's writings, Reading for My Life. "But he was, above all, an enthusiast." Those ecstatic, exhaustive, amassing—enthusiastic!—sentences, nestled in the pages of The New York Review of Books or Harper's or The New York Times, were a delight to me for many years. I'm even more delighted to have so many of them in one place. —Deirdre Foley-Mendelssohn
Joseph Cornell, mostly known for his shadow boxes, also made surrealist films. UbuWeb carries some dozen of them, including the rightfully famous Rose Hobart, the only movie to screen publicly during his lifetime—it sent Salvador Dalí into fits of rage, which sent Cornell's cinema into hiding. Yet it's The Midnight Party that really charms and disturbs. —Josh Anderson
"They free me from the prison of contemporaneity: one should not live only in one's own time. A wall of books is a wall of windows." Leon Wieseltier's hymn to having shelf upon shelf of books perfectly conveys the reason I'll never stop bringing books home. —Nicole Rudick
Recently I found myself watching a lot of Israeli cinema. I began with Or, about a daughter struggling to support her mother and keep her out of prostitution, and moved on to Jaffa, about a secret affair between a Jewish woman and an Arab man—both brilliant films featuring the splendid Dana Ivgy. —Natalie Jacoby
For those fond of the scandalous and confessional, take a look at these diaries of the famous. A perfect reading list for the voyeuristic. —Elizabeth Nelson
Of all last week's tributes to the late, great Gary Carter, the one that choked me up most was an emotional Keith Hernandez, who, back in the day, used to mock the exuberant and clean-living catcher. I also love Left Field Cards's tribute to "The Kid," the proceeds of which go to the National Brain Tumor Society. —S.S.
January 12, 2012 | by Robyn Creswell
Most of the poems stuck in my head are rap songs. Rap is the music I grew up listening to, and the lyrics from those days, the late eighties and early nineties, have stayed with me. I've forgotten most of the poems I had to memorize at school; of Keats's "To Autumn," I remember only the famous lines. On the other hand, Big Daddy Kane's "Smooth Operator," Rakim's "Mahogany," or Nas's "N.Y. State of Mind"—these are poems I know by heart, from beginning to end, and will probably never forget.
Some people don't believe raps are poems. They have a point. On the page, arranged into lines and stanzas, raps lose most of their appeal. I'm grateful to Bradley and DuBois's enormous Anthology of Rap, if only because I now know what Raekwon is saying on "Triumph" (which doesn't mean I understand it: "The swift chancellor, flex, the white-gold tarantula / Track truck diesel, play the weed, god, substantiala." Can I get a footnote?). But when raps are spelled out like this they lose their fluidity, their life in three dimensions. Rap is not monotonous, though it is almost always composed in couplets and four-four lines. But the good songs always surprise you, leave you wrong-footed, put the emphasis or rhyme where you don't expect it.
There is no doubt that Thomas Sayers Ellis's "Or," is a poem, but it is one of the few that feels to me like a rap—an especially good one. This is because of the way it establishes a pattern and then continually breaks away from it. The poem is based on the repetition of or, but as we read through it, what seemed like a formal constraint becomes a principle of transformation, a hinge that keeps flexing. The poem begins, as I read it, by riffing on the either/or logic of identity questionnaires ("You could get with this, or you could get with that," as Black Sheep once put it, in a different context). But it quickly ramifies into geography, history, poetics. Read it out loud a few times and you might find you already have it memorized: Read More »