Posts Tagged 'Norwegian-American Literary Festival'
April 28, 2015 | by Dan Piepenbring
You may have noticed a Knausgaard theme on the Daily today, between our interview with his translator Don Bartlett and Ian MacDougall's probing analysis of the author's scatological side. We're celebrating the release of My Struggle's fourth volume—but we're also celebrating the latest Norwegian-American Literary Festival, a series of readings, conversations, and musical performances coming to New York for three nights next month.
The festival begins on Wednesday, May 20, at the Westway in the Meatpacking District, where Karl Ove Knausgaard's reunited college band, Lemen, will take the stage. James Wood's band, the Fun Stuff, will perform, too, and Lydia Davis will begin the night in conversation with Dag Solstad about writing family history. Solstad is one of Norway's preeminent writers, the author of thirty-three books translated into thirty languages. Davis learned Norwegian by reading his latest novel, a four-hundred-page epic whose title translates, roughly, as The Insoluble Epic Element in Telemark in the Period 1591–1896. Read More »
May 13, 2014 | by Lorin Stein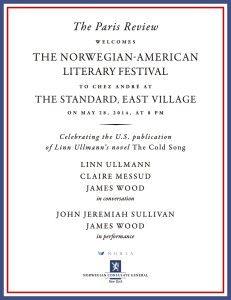 For the last two years, a small group of American writers and critics has convened in Oslo for a series of informal lectures, interviews, and discussions. Dubbed the Norwegian-American Literary Festival, this unlikely gathering has introduced packed houses to the likes of Donald Antrim, Elif Batuman, Lydia Davis, Sam Lipsyte, and John Jeremiah Sullivan, and—on the American side—has helped spread word of contemporary Norwegian masters including Karl Ove Knausgaard, Joachim Trier, and Turbonegro.
Now, for one night only, The Paris Review is proud to welcome the Norwegian-American Literary Festival to New York.
On Wednesday, May 28, join us at Chez André in the East Village to hear Claire Messud and James Wood in conversation with the Norwegian novelist Linn Ullmann, followed by rare musical performances by James Wood and John Jeremiah Sullivan. Liquid refreshments will be served.
Admission is free, but space is limited—reserve tickets for you and one guest now by e-mailing us at rsvpNALF@theparisreview.org.