Posts Tagged 'Norse Mythology'
December 3, 2015 | by Dan Piepenbring
If you've seen Fantasia, you are, whether you know it or not, familiar with the work of Kay Nielsen, a Danish artist whose illustrations collide light and dark in sublime, often disquieting quantities, with patterns of feverish detail abutting vast stretches of negative space. His work was used in Fantasia's "Ave Maria" and "Night on Bald Mountain" sequences, but his stint at Disney came late in his career. It's worth, instead, seeking out his work as a book illustrator, especially 1914's East of the Sun and West of the Moon, which Taschen has just reissued in a lavish new edition.
East of the Sun comprises fifteen stoical and weirdly moving Norwegian folktales, boasting names like "Prince Lindworm," and "The Giant Who Had No Heart in His Body." The stories came hard-won from the folklorists Peter Christen Asbjørnsen and Jørgen Engebretsen Moe, who had spent years in the mid-nineteenth century journeying across the fjords to remote fishing, farming, and mining villages to transcribe the local lore. A cast of trolls, ogres, and witches roots the stories clearly in Norse pagan mythology, but what makes them distinctly Scandinavian, Taschen's editor Noel Daniel told me, is the outsized, often personified role of the natural world: the North Wind is a character, brawny and menacing, and nature itself is a character, alternately gloomy and glowing. After a four-hundred-year sleep in which Norway had been subjugated to Denmark, tales from the vernacular like these helped to form the country's national identity. As the art historian Colin White writes in an introduction to the new edition, "Snow, ice, and brittleness determined the character of these northern legends. The clash of sword blades echoed the crack of ice. The crunch of frozen ground was all the more sinister when it was made with an armored foot or a heavily shod battle charger." Read More »
January 2, 2013 | by Sadie Stein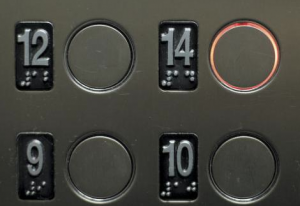 My apartment building on Manhattan's Upper West Side is of the standard prewar varietal, with the faint chicken-soup-in-the-stairwell smell familiar to any New Yorker and an elevator that goes up to fourteen. And by fourteen, I mean, of course, thirteen. In this respect it is standard too; the elevator, made by Otis (I paused to double-check as I was writing this), indulges our collective superstition and forces those on the top floor to live a peculiar quotidian fiction.
In taller buildings, of course, everyone above twelve is technically living a lie, albeit of the white sort. This is a bit of magical thinking that never fails to delight me on even the darkest day. Read More »