July 1, 2013 | by Jason Z. Resnikoff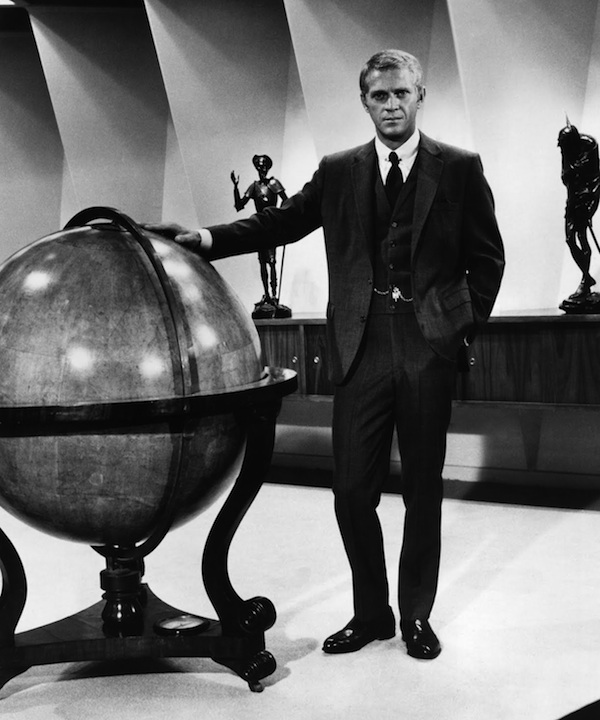 June 19, 2013, marked the forty-fifth anniversary of the release of The Thomas Crown Affair—the original version, directed by Norman Jewison and written by Alan Trustman. While for most of us the anniversary of a film might not seem like cause for celebration, I find that birthdays ending in zeros or fives have a momentous quality that welcomes grave rumination. And as we enter blockbuster season, a time of rich and disposable spectacle, it is amazing to revisit this high-gloss 1968 potboiler—what once passed for a summer blockbuster—and discover that not only is it still fresh, but, in the context of some of our most pressing contemporary anxieties, it is disconcertingly prophetic. In short, The Thomas Crown Affair is a paeon to the forces of globalization.
In The Thomas Crown Affair, globalization takes the literal form of a blank globe. Whenever I look at this production still—Steve McQueen in business attire resting a proprietary hand on this sphere of power, this atom of capital—I have the same reaction that Ralph Waldo Emerson had when he read Shakespeare: "I actually shade my eyes." In this photograph, we see a perfect articulation of a deep, ideological commitment to the tenets of globalization: the world reduced to a single, borderless place; a compressed rendering of a new world order. Read More »
December 29, 2011 | by Joan Schenkar
We're out this week, but we're re-posting some of our favorite pieces from 2011 while we're away. We hope you enjoy—and have a happy New Year!
Let's be honest.
I rue the day I didn't have my late stepmother whacked.
I'd rather eat dirt than talk to my larcenous cousins.
I haven't forgiven my father for disinheriting me.
I don't like families.
Patricia Highsmith (1921–95), America's great expatriate noir novelist (and the subject of my biography, The Talented Miss Highsmith), didn't like families either. Among twentieth-century writers, only André Gide has more damaging things to say about blood ties than Miss Highsmith does, and Gide is a little more succinct: "Familles, je vous haïs!" But even the Great Counterfeiter himself never went as far as she did on the subject.
Sitting in the second-floor study of her stone farmhouse in the village of Moncourt, France, her body hunched in front of her scrolled, roll-top desk like a snail confronting its shell, the fifty-one-year-old Patricia Highsmith picked up her favorite Parker fountain pen on a summer's day in 1972 and confided her feelings about families to her notebook:
One situation—one alone, could drive me to murder: family life, togetherness.
A year and a half later, Highsmith was circling her wagons again around the same thought by way of a nice, organizing little list. Like almost everything she turned her hand to her, her list—"Little Crimes for Little Tots1," she called it—has murder on its mind, focuses on a house and its close environs, mentions a mother in a cameo role, and is highly practical in a thoroughly subversive way. It's also vintage Highsmith: the writer who entertained homicidal feelings for her stepfather since grade school looks at six-year-olds and sees only the killers inside them.
Still, in spite of our shared opinion of family life, in spite of my growing admiration for the extremity of her writing voice (here she is as a coed: "Obsessions are the only things that matter. Perversion interests me most and is my guiding darkness"), in spite of the fact that she had the most fascinatingly complicated psychology I'd ever kept company with—living and writing in Highsmith's cone of watchful darkness was giving me plenty of trouble, harrowing my feelings and upending my sense of myself.
Annotations
Little Crimes for Little Tots or things small children can do around the house, such as:

1) Tying string across top of stairs so adults will trip.
2) Replacing roller skate on stairs, once mother has removed it.
3) Setting careful fires, so that someone else will get the blame if possible.
4) Rearranging pills in medicine cabinets; sleeping pills into aspirin bottle. Pink laxative pills into antibiotic bottle which is kept in fridge.
5) Rat powder or flea powder into flour jar in kitchen.
6) Saw through supports of attic trap door, so that anyone walking on closed trap will fall through to stairs.
7) In summer: fix magnifying glass to focus on dry leaves, or preferably oily rags somewhere. Fire may be attributed to spontaneous combustion.
8) Investigate anti-mildew products in gardening shed. Colorless poison added to gin bottle.