January 11, 2014 | by Brian Cullman
My father bought me a Swiss watch when I was seven. The strap was too big and needed adjusting, but when I could finally put it on, I felt a surge of electricity pulse through me, as if I'd just been shackled to time's wrist. No matter what I did, I couldn't get the ticking of the second hand to sync up with the beat of my heart.
I stopped wearing it and kept it in my pocket, only later finding the proper use for it: timing the forty-fives I bought and listened to in my room, checking the accuracy of the time on the label to the time on my watch. The Beatles' singles, I found, all listed the correct times. The Rolling Stones' singles, not so much. They'd often claim their songs were fifteen or twenty seconds shorter than they really were, hoping to get more airplay from DJs, who would often opt for a song they could run right into the news break. For me, it was the first hint that time was negotiable, that with the right connections no one had to pay full price for an hour. That being the case, what was the point of a watch? I haven't worn one since. Read More »
January 2, 2013 | by Sadie Stein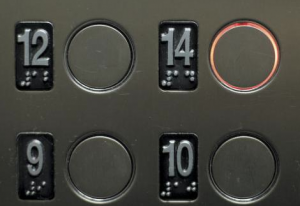 My apartment building on Manhattan's Upper West Side is of the standard prewar varietal, with the faint chicken-soup-in-the-stairwell smell familiar to any New Yorker and an elevator that goes up to fourteen. And by fourteen, I mean, of course, thirteen. In this respect it is standard too; the elevator, made by Otis (I paused to double-check as I was writing this), indulges our collective superstition and forces those on the top floor to live a peculiar quotidian fiction.
In taller buildings, of course, everyone above twelve is technically living a lie, albeit of the white sort. This is a bit of magical thinking that never fails to delight me on even the darkest day. Read More »