Posts Tagged 'Neiman Marcus'
November 22, 2013 | by Edward McPherson
Today marks the fiftieth anniversary of the assassination of John F. Kennedy. With all eyes on Dallas, it seemed fitting to re-run one of our favorite pieces from 2012, an ode to the city and its complicated legacy.
Between 318 and 271 million years ago, the ancient continental core of North America butted against what would become South America. Land folded and faulted; mountains were born. Then what would become the Gulf of Mexico opened, and inland seas washed the peaks away. It pays to remember there are mountains beneath Dallas. The tops may have eroded, but the roots remain buried deep.
Some 165 million years later—in 1841—John Neely Bryan built a shelter on a bluff and called the area Dallas.
One hundred and twenty-two years later—in 1963—John F. Kennedy was shot on that bluff, now named Dealey Plaza.
Seventeen years later—in 1980—J. R. Ewing was shot on TV. Read More »
December 23, 2010 | by Nicole Rudick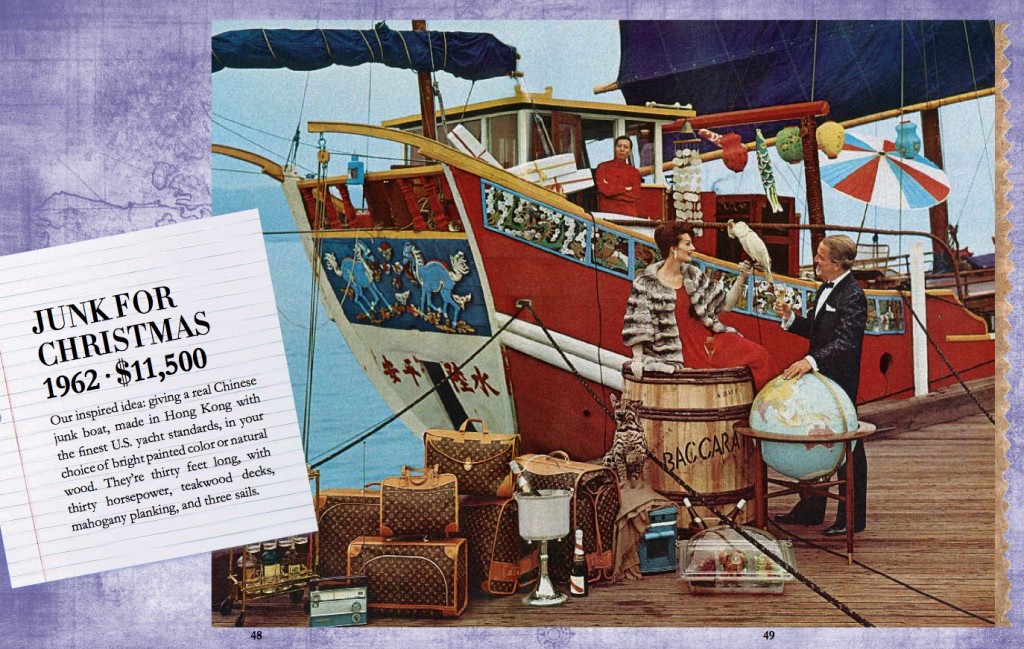 In 1939, Neiman Marcus published their first Christmas book, a catalogue of extravagant, humorous, astonishing, and often jewel-encrusted gifts. Over the Top: 50 Years of Fantasy Gifts from the Neiman Marcus Christmas Book, recently published by Assouline, celebrates the Chinese junks, minisubs, urban windmills, bags of diamonds, sailplanes, animal-shaped desks, Warhol portraits, and Jack Nicklaus custom backyard golf courses that only the top 1 percent could comfortably afford.
The first cover, in 1951, featured artwork by Saul Steinberg, with subsequent covers created by a host of notables, such as Robert Indiana, Ludwig Bemelmans, Al Hirschfeld, Victor Vassarely, Chuck Jones, and Ben Shahn. His & Hers gifts became a frequent staple of outrageous indulgence beginning in 1960 with His & Hers Beechcraft Airplanes ($176,000). Ensuing examples rivaled for the title of most ostentatious: His & Hers Camels (1967; $4,125), His & Hers Hot Air Balloons (1964; $6,850 each), His & Hers Authentic Mummy Cases (1971; $16,000), His & Hers Robots (2003; $400,000), and His & Hers Name Your Own Jewels (1985; $2,000,000).