Posts Tagged 'Nathaniel Hawthorne'
February 13, 2013 | by Tupelo Hassman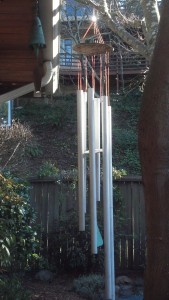 My husband hung up the wind chimes today. This doesn't sound like a big deal, as my husband is a competent man and gravity is working as it should. It is a big deal, though, because these are big wind chimes, eight feet tall, made of steel tubes that gong when the wind catcher catches. They aren't beautiful to look at, nor beautiful to hear, unless you really dig church, but they are beautiful to me, and now that they're up, after two weeks at our new house, I know we are home. Again. This is our third move in five years.
I inherited the wind chimes from my folks. My parents had the sort of love affair that required them to marry each other twice. This would be more romantic if there wasn't a divorce in the middle of that, say, or if they weren't in the process of a second divorce when my mother died. Where some couples have trial separations, my parents had trial marriages. The family agrees that if these two were still alive today, they would be going for yet another round.
On the second try, they moved to Washington state, to a house overlooking the Hood Canal, a tiny, perfect part of the Puget Sound. For the nine months they managed to keep their romance together this time, the house was alive with the magic of second chances. Where the first album I ever remember hearing is Paul Simon's Greatest Hits loud on Pops's eight-track, the Washington trial marriage, fifteen years later, was perfectly timed with the release of Simon's Graceland. The house rang with Pops's voice singing along to you "You Can Call Me Al," a pointed reference to a past love of Mom's. This Al had died years before, but death brings no end to competition in marriages such as this, and Pops took more pleasure from it than he should have. Mom loved Simon's "Diamonds on the Soles of Her Shoes," and would insist the song was about me, one of the prettier riddles I inherited. Read More »
May 21, 2012 | by Jason Novak
A ten-foot-tall panel illustrating the classic novel by Nathaniel Hawthorne. Click in and scroll down for the whole story.