August 30, 2012 | by Joseph Bernstein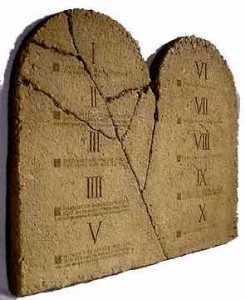 1.
You will likely have noticed by now the writerly fashion of building an essay by numbered sections. These sections can vary from just a single sentence to many pages. Sometimes a section will bear one or more indentations or line breaks and will stretch into a mini-essay. Sometimes there will be as few as three sections and sometimes there will be more than a hundred.
Writers, such as God, have been numbering sections for a very long time indeed, and I do not wish to suggest that this technique is new, rather that it is increasingly used. My proof is a general sense that this is happening, nursed into conviction by a robust confirmation bias.
Two
Quite often these sections comprise a series of declarative sentences, near aphorisms, sayings that, breathed from the lips of drunks, would by most of us be taken in, swished around and then spat out.
III
These sections comprise wild declarative sentences, aphorisms, sayings that, belched from the throats of drunks, would be swished around and then spat out.
To take one example, "The only picture that it seems appropriate to paint in 2012 is a painting of people having their picture taken by famous paintings."
August 5, 2011 | by The Paris Review
Let America wonder about Untitled by Anonymous—I got my Madoff fix in Paris, from a profile in XXI magazine. A quarterly devoted to long-form journalism, with generous helpings of fact-based bandes dessinées and photo essays reminiscent of the old National Geographic, XXI has been a somewhat unlikely hit with readers and bookstores. The magazine runs no ads, has no publicity department, conducts no market research, has minimal Web presence, and offers no discount to subscribers. As cofounder Patrick de Saint-Exupéry explains, "The magazine's worth what it's worth." —Lorin Stein
I've been reading Beryl Bainbridge's last novel, The Girl in the Polka Dot Dress, which was published posthumously this year. It's strange and bleak and interesting, a little disturbing. It's apparently based on Bainbridge herself, as well as the mysterious woman rumored to have been involved in Robert F. Kennedy's assassination. —Sadie Stein
This weekend I plan to check out the Lucian Freud show at the Met. Freud, who died in July, once said, "I paint people, not because of what they are like, not exactly in spite of what they are like, but how they happen to be." He's not for everyone, and that's a good thing. —Cody Wiewandt
I'm currently working my way through this little audio treasure: forty years of Polish experimental radio. —Natalie Jacoby
I've been flipping through Nabokov's annotated copy of Madame Bovary at the Berg Collection in the New York Public Library. If Flaubert's prose doesn't astound, then Nabokov's illustrations of Emma Bovary's chignon, his passing jibes at less than adequate translators, and the chronological maps of the author's life will. —Mackenzie Beer
The relaunch of Take the Handle—an "online hub of rascalism, repartee & recreation"—includes short pieces by former Review editor Nathaniel Rich as well as an interview with the makers of Plimpton!, the forthcoming documentary of the Review's first editor. —Deirdre Foley-Mendelssohn
In Paris I found myself reading several postbreakup novels: After Claude (thanks, Sadie!), plus two books by Jean-Philippe Toussaint about a recurring ex-girlfriend named Marie. (My favorite, The Truth About Marie, comes out next month.) Toussaint has been described as a writer of nouveaux nouveaux romans, but he is dreamy and funny and haunted in a way all his own. —L. S.
The New York Post outdid itself with this piece of reportage. —S. S.