March 14, 2013 | by Matt Domino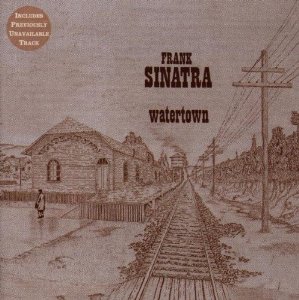 No one under the age of fifty really listens to Frank Sinatra anymore. Like anything else, there may be exceptions to this fact, but overall it's true. Frank Sinatra is a legendary artist whose work will always be enjoyed and referred to. However, his era of direct relevancy is obviously long gone, and his era of anecdotal relevancy is starting to fade.
We associate Frank Sinatra with a bygone era of America, a time of guys and dolls, a time when people would swing and dance and when the lounge singer was king. Sinatra's unique talent was maintaining this vision even as it eroded away over time—to make you feel old-fashioned feelings in a modern era. Sinatra's heyday was from the late forties to the late fifties, yet he recorded "New York, New York" in 1977.  And "My Way" makes you feel like a proud man looking over the skyline of post–World War II Manhattan, even in 2013.
Still, Sinatra's most overlooked achievement is perhaps the one album he made that did not feel as though it was evoking the era he loved or knew the most. In 1969, the same year that Frank Sinatra recorded "My Way," he released an album called Watertown. Chances are, even some of the biggest Sinatra fans—like my grandparents and great aunts and uncles—have forgotten about Watertown. But Watertown is Frank Sinatra's best album and his most enduring contribution to American culture. Read More »
December 27, 2011 | by Avi Steinberg
We're out this week, but we're re-posting some of our favorite pieces from 2011 while we're away. We hope you enjoy—and have a happy New Year!
Maurice Sendak is set to publish his first full-production book since Outside Over There (1981). For the past thirty years, Sendak has been collaborating with other writers, illustrating old texts, designing sets and costumes for opera and ballet productions, creating advertisements and book and magazine covers, and making the occasional HBO cameo as an old-world rabbi. But with Bumble-Ardy, Sendak is reemerging in the form that he has, since 1963's Where the Wild Things Are, come to define: children's stories.
Bumble-Ardy is a pig, raised by an aunt, who is built like a house and who lives in a house that looks like a ruin. This aunt is doing her best with poor Bumble, a child who was orphaned when his parents "gorged and gained weight. / And got ate." That tragic turn of events may have been for the best, as Bumble's lousy parents never once got around to throwing the boy a birthday party (his birthday is June 10, the same as Sendak's). So, on his ninth birthday, Bumble secretly invites over terrifying hordes of local swine, who arrive in disguise for a bacchanalia of "birthday cake and brine." The party ends in hoggish chaos, in tears and threats of slaughter—and, finally, with a measure of forgiveness.
Why the decision to go with a pig? Why not a hedgehog?
I've always loved pigs: the shape of them, the look of them, and the fact that they are so intelligent. I think I like them more than I like little human boys. The prospect of drawing pigs was something I could look forward to, and I needed something to look forward to. This project was done under very difficult circumstances. Somebody very important to me was dying painfully, horribly, slowly, and it leaves you questioning everything. Read More »