May 27, 2013 | by Christina Thompson
Three years before my mother's final illness she had a major stroke. It was not a typical stroke—more cascade than cataclysm—but when it was over it had laid her low as effectively as a bolt of lightning.
At first, we didn't know if she would live or die. She couldn't move any part of her body, couldn't speak, couldn't swallow. This last was particularly distressing—swallowing is such a primitive function, but the stroke, it seemed, had struck a primitive part of her brain.
During those first few nights I sat by my mother's bed in the dim double ward, the curtains drawn between us and the other occupant, who coughed feebly and rustled like an animal in the walls of a house. My mother breathed quietly, the lights on her monitors blinked and glowed. Occasionally an alarm would go off somewhere down the hall with the high, persistent beeping that hospital staff, remarkably, never seem to notice.
I sat there for I don't know how many hours, drifting in and out of exhaustion and anxiety, and at some point a fragment of poetry came into my mind. "Lay your sleeping head, my love, / Human on my faithless arm . . . "
Over and over it played in an endless loop, while I racked my brains to identify it. It was definitely something I knew, but I couldn't even think what century it belonged to. For some reason it became incredibly important to me to figure out what it was. Read More »
May 11, 2012 | by Albert Cohen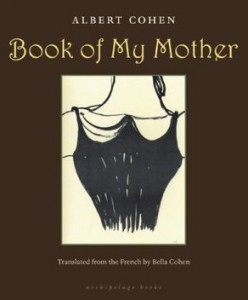 Shortly after fleeing to London from Nazi-occupied France, novelist Albert Cohen learned of his mother's death in Marseille. His grief took the form of a series of personal essays for La France libre, which later grew into Book of My Mother. It was translated into the English by his wife. In honor of Mother's Day, we bring you this excerpt.
She waited three hours for me in that square. Three hours which I could have spent with her. While she was waiting for me, wreathed in patience, I chose to concern myself, stupidly enthralled, with some poetic amber damsel, abandoning the wheat for the chaff. I missed three hours of my mother's life. And for whom, good God? For an Atalanta, an attractive arrangement of flesh. I dared to prefer an Atalanta to the most sacred goodness, to my mother's love, my mother's incomparable love.
Incidentally, if some sudden illness had deprived me of my strength or merely all my teeth, the poetic damsel would have pointed me out and ordered her maid to sweep away that toothless garbage. Read More »