April 23, 2013 | by Jonathan Wilson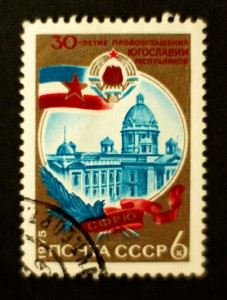 In March 1975, a couple of weeks after my twenty-fifth birthday, I accompanied my girlfriend Tina on a trip to Russia. At the time Tina was a graduate student at the University of Essex pursuing a thesis on "Dostoyevsky and the Russian Orthodox Church," under the benign supervision of the eminent scholar and translator Angela Livingstone. Londoners both, we had been living together for almost four years in the village of Wivenhoe near its estuary, close to the college campus, far from the big city and the disapproving glare of our respective widowed mothers.
My mother, a conscientious objector to interfaith relationships, had long ago banned Tina from visits to her home. "It's bad enough you have to go out with someone who isn't Jewish," she said, "but why did you have to pick a girl with Christ in her name?"
"Her name's Tina," I had replied.
"And what do you think that's short for, idiot?"
For her own part, Tina's mother, dressed always in Greek Orthodox widow's black, was opposed to our living together on moral grounds, which had, I could see, a superior logic.
Our workman's cottage in Wivenhoe featured no bathroom, a decidedly unpoetic outside toilet, and walls so thin that the neighbors' voices came through no softer than our own. The wife could be harsh. "Pick, pick pick," we heard her yell at her husband as we sat down to eat. "You stick your finger so far up your nose that you're gonna pick your bloody guts out one of these days." Our kitchen table doubled as a work desk, and was covered with books by obscure (to me) Russian saints and philosophers, Tikhon of Zadonsk and Vladimir Solovyov among them.
Angela Livingstone was already in Russia working on a translation project, and she invited Tina to come and visit her. I tagged along for the ride. We booked onto a group tour through Intourist, the Russian travel agency: it was not easy in those days to move without an official guide in the Soviet Union. We planned a few days in Leningrad, to be followed by a train journey to Moscow, where Angela would meet us at our hotel and, we hoped, spirit us away from our minders. Read More »
January 25, 2012 | by Barry Yourgrau
A., my girlfriend, is originally from Moscow. Her mother lives around the corner from us in Queens and throws dinner parties. It's mainly an older, cultured ex-Soviet crowd. Lots of vodka, lots of overeating zakuski (appetizers to accompany vodka)—hours of nostalgic guffawing (Soviet jokes) and choral crooning (dissident songs and Stalinist patriotic rousers, with equal pleasure). Not speaking the lingo, I grin a lot—a genial, inebriated, slightly patronized potted plant.
The air of these evenings is thick with Russian irony and cultural chauvinism. Pushkin is beyond all criticism. "How dare you even pronounce his name with your filthy mouth," A. will flare up, not altogether faking her indignance.
Or an old photographer-pal of Brodsky's from Leningrad (inevitably old pals of Brodsky's are present) will assert that Russian translations of Hemingway far surpass the originals.
This latter bit of flag-waving causes me to reflect that much of the literature that deeply influenced me as a writer I read in English translation. Foremost stands Isaac Babel, whose compressed, lyric violence overwhelmed me in my twenties. Then there was Bulgakov; even P—n's fate-haunted tales. Later, in my early days with A., while she was away and I mooched disconsolately in her apartment, I read in translation Shalamov's horrifying, degraded, flickering Kolyma Tales about his frozen years in the Siberian Gulag. I kept dropping the book and pacing away, moaning and clutching my head at the savagery, the unspeakable pathos. Then there were Cendrars and Simenon, Borges and César Aira (another alchemical Argentinean, rendered brilliantly by Chris Andrews) .
But, however good the English versions, there's always in these books a slight straining—a hovering sense of idioms being just off. Read More »