Posts Tagged 'Morris Museum'
March 10, 2014 | by Liz Arnold
Encaustic means "to burn." The ethereal quality of Betsy Eby's encaustic paintings belies the labor-intensive process of their making—an ancient method involving heated wax, damar resin (the sap of a Southeast Asian pine), and pigment applied in translucent veils with brushes and knives. Using a blowtorch, she liquefies the wax and fuses the layers with fire.
Eby's solo show, "Painting with Fire," is now at the Morris Museum in Augusta, Georgia. Eby is also a classical pianist, and many of her works are titled for musical pieces; her delicate compositions often seem to possess fluttering rhythms reminiscent of piano music. Eby is steeped in the Romantic era's exploration of the interplay of senses. In a new book, Betsy Eby, art historian David Houston contributes an essay about synesthesia in her work, exploring the connections between sound and image. He mentions Baudelaire's idea of correspondence, "anchored in the belief that sensory experiences can correspond to common emotions." One of the surprising benefits to viewing Eby's work in person is the engagement of another sense—smell—in the presence of natural beeswax. Drawing from poets and philosophers, composers and visual artists, her paintings resonate as much with history as they do modernity.
I recently spoke with Eby from her studio in Columbus, Georgia, where she lives with her husband, the Realist painter Bo Bartlett, in his childhood home. (The Morris Museum is also hosting a concurrent show of Bartlett's work, "Paintings from Home.") Read More »
May 22, 2012 | by Jenny Hendrix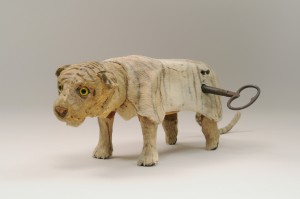 By now, the entire Internet is aware that last month A/V technicians at Coachella resurrected Tupac for a performance with Snoop Dog and Dr. Dre. Though a little phosphorescent, the rapper seems lifelike enough in the videos, with his Timberlands and rather nice abs. Cumulatively, though, the effect, especially when (living) Snoop is in the frame, is, above all else, weird. Watching the virtual Pac unintentionally moonwalk across the stage, we might think of E.T.A. Hoffmann's "Sandman": "Aha! Pretty doll! Spin round, lovely doll!" Not as odd a juxtaposition as it may seem: as Gizmodo reports, the effect was produced by means of a nineteenth-century trick called "Pepper's Ghost."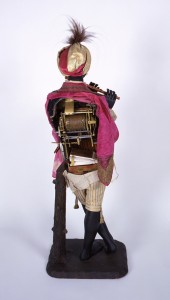 The nineteenth century represents the tail end of humanity's fascination with the mechanical replication of itself. Much effort had been expended in that direction the century prior, in the Marais neighborhood of Paris, where the automata builders lived and worked. That the word automata comes from an economical Greek verb for "acting of one's own will" points somewhat toward the source of the period's fascination with them; miming organic processes, these machines seemed to be animated by something beyond gears and wires. Actually, they were operated by clockwork: linkages or rods in the body connected to a set of cams, irregular wheels concealed in the object's base or body. The cams served as the object's "memory" turning in circular motion—a winding key, for instance—into linear, transposing mechanics into something resembling life. Automata were, as Freud put it, in his essay on the uncanny, unlike us enough to be at once familiar and strange, or at least "secretly familiar." It was uncertain whether they were really doing what they appeared to be, whether they lived, whether they had something resembling a soul. But like Tupac, automata were reproducible, replaceable, and performed the same actions again and again. There were also many copies, quite a few of which still survive.