October 30, 2015 | by Max Nelson
Abdellatif Laâbi's poems are at war with barbarism.
Max Nelson is writing a series on prison literature. Read the previous entry, on Oscar Wilde's De Profundis, here.
In Le livre imprévu, his 2010 collection of autobiographical essays, the Moroccan poet Abdellatif Laâbi suggested that there were "two branches of the human tree" with which he'd been in touch over the course of his turbulent life:
I think I know well miseries and luminosities, pettinesses and grandeurs, barbarism and refinement. Provisionally, I've fixed myself in the space between the two, the better to estimate the fault line that separates them and the state of the roots in which they meet far under the earth.
Laâbi has returned to the word barbarism throughout his career. "I am happy," he wrote his wife in one of the many revelatory letters he sent her during his eight-year jail sentence under King Hassan II for "infringing on the internal security of the State." He continued: "What a paradox for the barbarians, the enemies of the sun." Early in L'arbre de fer fleurit, the first of several long poems he published from prison, one verse's speaker encourages an unnamed friend to hold on when it comes time to take "your first steps in the barbarous night." And the five poems collected in Laâbi's first book, The Reign of Barbarism, were written in Rabat years before his arrest in 1972, but first published in 1976 by the publishing imprint of his friend Ghislain Ripault's literary magazine Barbare. Read More »
January 26, 2012 | by William Burroughs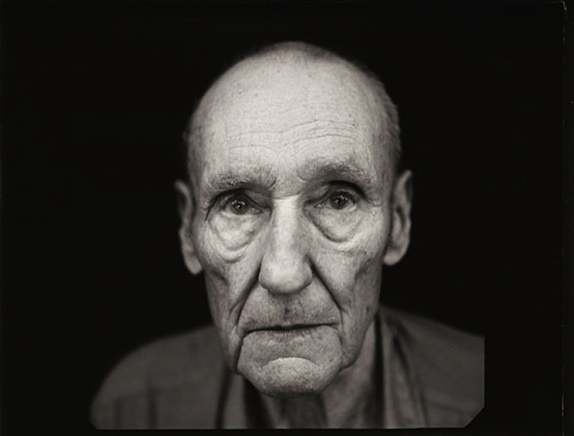 WSB [Paris] to Laura Lee and Mortimer Burroughs [Palm Beach, Florida]
[ca. November 17, 1959]
Dear Mother and Dad,
I am sorry.. Can only say time accelerated and skidded—No time to eat as you see in the photo—(Taken by my friend Brion [Gysin] the painter, certainly the greatest painter living and I do not make mistakes in the art world. Time will bear me out.. Brion used to run The 1001 Nights, restaurant night club in Tanger but at that time we barely spoke disliking each other intensely for reasons that seemed adequate to both parties.. Situation and per­ sonnel changed.. The 1001 Nights closed for dislocations and foreclosures and Brion woke up in Paris.. And I, stricken by la foie coloniale—the colonial liver, left the area on advice of my phy­ sician.. "You want to get some cold weather on that liver, Bur­ roughs. A freezing winter would make a new man of you," he said.
So when I ran into Brion in Paris it was Tanger gossip at first then the discovery that we had many other interests in common..
Like all good painters he is also a brilliant photographer as you see.. A curious old time look about the photo like I'm fading into grandfather or some other relative many years back in time..)
Rather a long parenthesis.. It strikes me as regrettable that one should reserve a special and often lifeless style for letter to parents.. So I shift to my usual epistolary style.. When my correspondents reproach me for tardiness, I can only say that I give as much atten­ tion to a letter as I do to anything I write, and I work at least six and sometimes sixteen hours a day..
I am considering a shift of headquarters from The Continent— or possibly England—All we expatriates hear now is: "Johnny Go Home"and may be a good idea at that..Terrible scandal in Morocco.. Cooking oil cut with second run motor oil has paralyzed 9544 per­ sons.. The used motor oil was purchased at the American Air Base and was not labeled unfit for human consumption .. The Moroccan press holds U.S. responsible not to mention 9,544 Moroccans and a compound interest of relatives.. "Johnny stay out of Morocco."
I want to leave here in one month more or less a few days and make Palm Beach for Christmas if convenient.
I was sorry to hear that Mote has been ill.. Take care of your­ self—Dad—and get well. I will see you all very soon —
Love
Bill
PS. If my writing seems at times ungrammatical it is not due to carelessness or accident. The English language—the only really adjustable language—is in state of transition.. Transition and the old grammar forms no longer useful..
Best.
Bill