Posts Tagged 'Moody Road Studios'
March 15, 2013 | by Kelly McMasters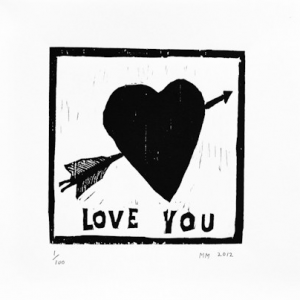 "The sky was darker than the water
—it was the color of mutton-fat jade."
—Elizabeth Bishop, "The End of March"
On more Saturday afternoons than not this month, I've watched swirls of snow blow past the blue door of our bookshop. The parking lots in town have small mountains of mud-encrusted snow piled in their corners, monuments to the length of this winter. At home, the firewood is running low, our freezer is nearly empty of the lamb we split with our neighbors back in the fall, and the local farmer's market offerings have dwindled down to the last rutabagas from the root cellars. This has been a long winter, and everyone who comes into the bookshop looks a bit tired, drawn, impatient for spring and the promises that come with it.
My favorite customer came in three weeks ago with his pregnant wife, her hair and eyes glowing, everything about her bursting with her own impending spring. Her husband is my favorite customer because he is my good luck charm—on the bookshop's first Saturday he walked in and poked around until he found our poetry section. He gaped, not believing our little cache of modern poets. He revealed he was also a poet, had written his graduate thesis on Franz Wright. He'd grown up in town and I thought the presence of a local poet on one of our first days open was an auspicious sign. Read More »
February 12, 2013 | by Kelly McMasters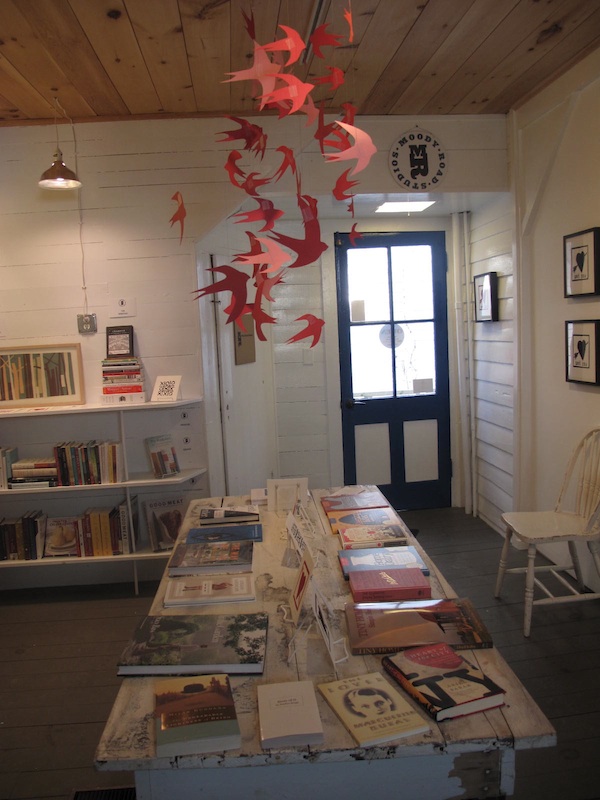 Sitting alone in my tiny bookshop on a cold February morning, I have the sensation that I've conjured a dream into reality. The light is crisp and blue through the door. A flight of red paper swallows—a Valentine homage to Chaucer's poem "The Parliament of Fowls"—hangs from the ceiling, fluttering quietly from the heat whooshing out of the floor grate. The room is small, just shy of two hundred fifty square feet, and an old pickled farm table sits squarely in the middle. The top of the table is covered with books, and the shelves lining two of the room's walls also contain a patchwork of brightly colored spines.
Valentine-themed woodblock prints handmade by my husband line the farm table and a grid of nature-inspired prints hold a wall. We live on an old dairy farm up in northeast Pennsylvania, and instead of cows in our three-bay English barn, we have two etching presses. Mark carves the images into blocks of clear pine, inks them up, and sends them through the press, cranking the smooth silver wheel like a captain on a ship. This is our store together, a kind of celebration of works on paper. We live on Moody Road, and so we call the shop Moody Road Studios.
An artist and a writer, respectively, my husband and I had both been teaching and working in the city for more than a decade, until a little over a year ago. The idea of running a bookshop never entered our consciousness while in New York, mostly because it never could have happened. Space and funding were impossibilities—as one might guess, a writer and an artist in business together don't quite make for a crack commerce force. But here, on Main Street in the small town of Honesdale, everything clicked into place. Read More »