Posts Tagged 'Montmartre'
March 1, 2012 | by Patrick Monahan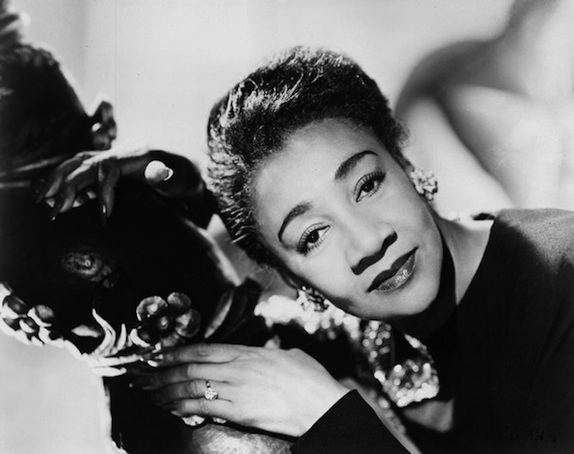 I never really got the Blues, though I have certainly gotten the blues. Maybe that's why, until recently, I had never heard of Alberta Hunter and why her recordings and I are now inseparable. If Bessie Smith's blues are a wail to the world, Alberta's are a conversational tête à tête. She wrote and sang throughout her life but refused to be classified as a singer of any particular genre. "Just call me a singer of songs," she insisted.
Last summer, a pianist friend handed me Amtrak Blues, an album Alberta recorded in 1978, at age eight-three. "You'll get this," he assured me. When I put it on, a frank, earthy voice radiated from the stereo speakers, and I started wondering who this lady could be. I found photos of a moon-eyed Chicago saloon singer with gold hoop earrings, a Parisian flapper in a filmy evening dress, a nurse in whites, a USO entertainer in khakis, and a sibylline old lady.
There was, as it turned out, a variegated life behind such variety. "I've been more places by accident than most people have been on purpose," Alberta once quipped. A singer, actress, composer, and journalist, she was a kind of musical Marco Polo whose talents were as diverse as the many places her career carried her. Read More »
August 15, 2011 | by Patrick Monahan
Whenever she was asked about her start in the world, the legendary saloonkeeper Bricktop—born Ada Smith—replied:
On the fourteenth day of August 1894, in the little town of Alderson, West-by-God-Virginia, the doctor said, "Another little split-tail," and on that day Bricktop was born.
T. S. Eliot later added, "…and on that day Bricktop was born. And to her thorn, she gave a rose."
Bricktop is a not a familiar name to most people today, though the crumbs of her extraordinary life are indispensable to the telling of a certain moment in the history of Americans in Paris and café society everywhere. Woody Allen's latest movie, Midnight in Paris, could hardly recall the days of Gertrude Stein, Ernest Hemingway, or the Fitzgeralds without Zelda crying, "Let's go to Bricktop's!"
Ada Smith, like many African Americans of her day, was born poor. Her mother, who ran a boarding house, had a passion for cleanliness and a self-confessed trigger-fast Irish temper. Around 1900, the family moved from Virginia to the South Side of Chicago, where Ada got her first taste of the theater. She hung around the stage doors of Chicago's great vaudeville houses, waiting for the likes of Sophie Tucker, a belting singer known as "The Last of the Red Hot Mamas," to emerge. But it was the back rooms of saloons, with their sawdust-covered floors, that captured her imagination. Read More »