March 30, 2016 | by Ryan Bradley
The linguist discusses how technology shapes culture and culture shapes words.
The first time Sarah "Sally" Thomason and I spoke, she'd just completed her annual two-day, eighteen-hundred-mile drive from her home in Ann Arbor, Michigan, where she teaches, to rural northwestern Montana, where she spends her summers studying Montana Salish. For thirty-four years, Thomason has been assembling a dictionary of this Native American language, which is spoken fluently by fewer than forty people. Thomason, a linguist, is fascinated by what happens when one language meets another, and how those languages change, or don't. I had contacted her because I was interested in how certain words—say, e-mail, or google, or tweet—had been exported worldwide by American-born technology. I'd already called several linguists, and they all said I had to speak to Sally. No one, they said, had more insight into how linguistic traits travel, how pidgins and creoles are born, and how languages interact and change over time.  
The French government tried very hard to resist American loanwords like e-mail, promoting in its place messagerie électronique or courriel. They'd formed a whole agency for this purpose. Laws were passed and enforced. And yet e-mail prevailed—it was simply more efficient. But Sally was especially excited about languages that resist such borrowing, even in the face of extraordinary cultural influence and dominance. Montana Salish was one such language. Our conversations followed a pattern: I arrived expecting one thing and ended up somewhere entirely distinct, thinking differently about language and human culture.
Is it fair to say that you study what happens when languages meet? Is meet too friendly a word? I suppose there's a whole range of things that happen, and sometimes it's friendly and sometimes it's not.
Right, but having a language disappear because all the speakers got massacred is actually really rare. There are a couple of examples where all the speakers of some language got wiped out by a volcanic eruption on an island. And there are a couple of examples, at least one in this country, where almost everybody was wiped out by smallpox and then the remainder was lynched by a mob.
What languages are those? Read More »
May 14, 2012 | by Alice Bolin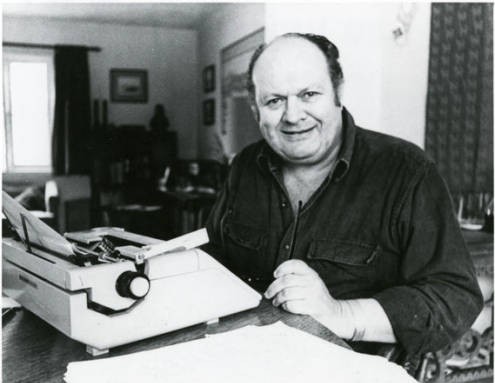 It is an indisputable fact that the memory of poet Richard Hugo haunts Missoula, Montana. This notion might first strike us as innocuous, obvious, falling within the simple domain of legacy. Thirty years after his death, he leaves equal endowments in Missoula, as the most important "Montana poet" and as a teacher of poetry: he was one of the first directors of the University of Montana's renowned creative writing program and the author of a classic handbook on creative writing, The Triggering Town, that is filled with excellent, weird, and practical advice.
Further related to the activity of haunting: Hugo's poems famously concern places. He is known primarily as a regional poet, and many of his most famous poems are named for Montana towns or landmarks, like "Degrees of Gray in Philipsburg," "The Milltown Union Bar," and "The Lady in Kicking Horse Reservoir." One can use his book of collected poems, Making Certain It Goes On, as a guidebook to Montana's bleakest and loveliest destinations; titles of his poems will lead you to Garnet ghost town, St. Ignatius, Turtle Lake, Wisdom, and Fort Benton, finally winding back to what was once Hugo's actual address in Missoula, 2433 Agnes Street. When Hugo wrote a poem about a place, he made the place a part of himself, and now that he's gone, a part of him remains in those places.