Posts Tagged 'Mohammed Hanif'
February 7, 2013 | by J. D. Daniels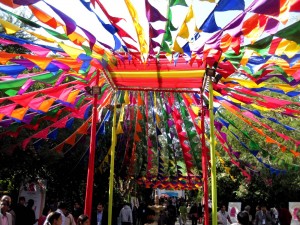 Last year's Jaipur Literature Festival was exciting and boring at the same time—a death threat is exciting, but thirty death threats are boring; as Dostoevsky wrote, "Man is a creature who can get used to anything." Salman Rushdie was scheduled to attend: Islamic groups agitated to deny him a visa, which he does not need in order to enter India, but never mind. It was suggested that instead Rushdie might address the festival via video conference: the government itself advised against this. Hari Kunzru, Jeet Thayil, Amitava Kumar, and Ruchir Joshi read aloud in protest from The Satanic Verses, still banned in India, but, after the gravity of their collective transgression had been brought home to them, they left the festival.
We know what comedy is: life is increased. Think of Rodney Dangerfield addressing the crowd at the end of Caddyshack: "Hey, everybody, we're all gonna get laid!" And we know what tragedy is: isolation increases. I used to think that life was about winning everything, Mike Tyson once said, but now I know that life is about losing everything.
But what is India, with its boundless affirmation of life in general that befouls so many lives in the particular, with its joyous proliferation unto overcrowding, need, and misery? I did my small part, during my brief month there, to maintain those inequalities: Give me your shoes, I know you have other pair, you not need these, give them me, said a man as he tried to pull my sneakers off while a second man tried to pin my arms; and what he said was true, somewhere on the other side of the world I did have another pair of shoes, four shoes and only two feet; all the same, unhand me, my little friend, before I pick you up and throw you like a javelin.
I attended the 2013 JLF. It began in the same way. Read More »
October 18, 2011 | by Jonathan Gharraie
Though The Cloud Messenger is Aamer Hussein's first novel, it comes after five collections of stories and a novella, Another Gulmohar Tree. Born in Karachi, Pakistan, but a long-time resident of London, Hussein has dramatized the sorts of encounters between and within cultures that reflect his own facility in seven languages. He writes with intelligent restraint about the experience of displacement, but also the indelible richness of wherever we like to think of as home. The Cloud Messenger draws on his own unsentimental education as a student of Farsi to create a romance about language and the unexpected life that reading and translating can take. Last year, we met to discuss the Granta anthology of writing from and about Pakistan at his home in West London.
Could you begin by explaining your background?
I'm from Karachi, third-generation in almost an accidental way, because both my grandfather and father were born there, even though they hadn't lived there very much until after partition because of certain historical … mishaps, you might say. My mother is from Northern India and from a much more traditional family, although her father was an academic.Read More »