December 15, 2011 | by Liz Brown
Silvano and I met about ten years ago through mutual friends. I don't remember the exact shirt he was wearing at the time, but I know it had bright colors and elaborate embroidery. (Later, I learned it came from Alpana Bawa.) Also, he was wearing one dangling, bauble-y earring. Possibly it included a feather. This was at a party where most people worked in publishing, which is to say, he stood apart.
Other details I have filed away about Silvano include that in the house he shares with his husband, Craig, there is a shrine to Anna Magnani and a poster from his 1977 campaign for supervisor of Board 5 in San Francisco. In the poster, he wears a one-shouldered top and tights and is beaming, his long arms flung skyward, a look inspired by a Patti Labelle album cover. He was running as the "dada alternative" to Harvey Milk. Also, in Robert Gluck's novel Jack the Modernist, the narrator goes out to a performance piece in which Silvano appears as "Madame Chiang-Ch'ing." More recently he got his associate's degree in accessories at FIT.
I knew all this about Silvano, but I didn't have any idea how much Elizabeth Taylor meant to him. Not even when I met him at his home Sunday morning and he came to the door wearing a purple felt fedora, an iridescent purple mandarin-collared jacket, and purple suede boots. We were on our way to a preview of the Elizabeth Taylor collection being auctioned off this week. Read More »
November 10, 2011 | by James Franco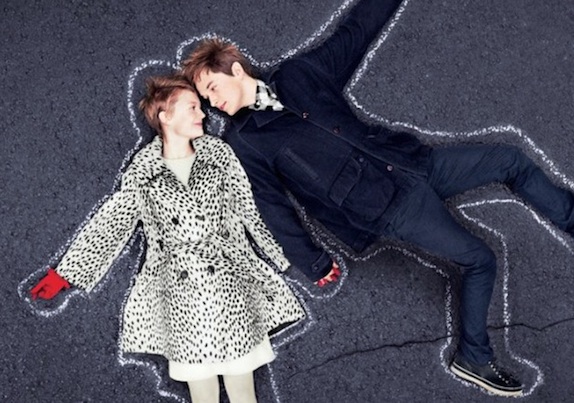 A few weeks ago, I went to the local art-house cinema in Royal Oak, Michigan, to see Gus Van Sant's Restless, starring Dennis Hopper's son, Henry Hopper, and the sensitive indie-girl du jour Mia Wasikowska. The movie is in many ways a conventional love story: awkward boy meets awkward girl; they both have secret traumas that they eventually reveal to each other; they support each other emotionally when the rest of the world is unable; they have a fight; and then, by the end, they come to a greater acceptance of each other. But one director's trite structure is another's fresh material. If Van Sant had made nothing but offbeat romances, Restless might have been boring. But he is one of the most experimental filmmakers we have, and his decision to helm an ostensibly ordinary love story is, itself, anything but ordinary. Read More »