May 4, 2012 | by Matteo Pericoli
A series on what writers from around the world see from their windows.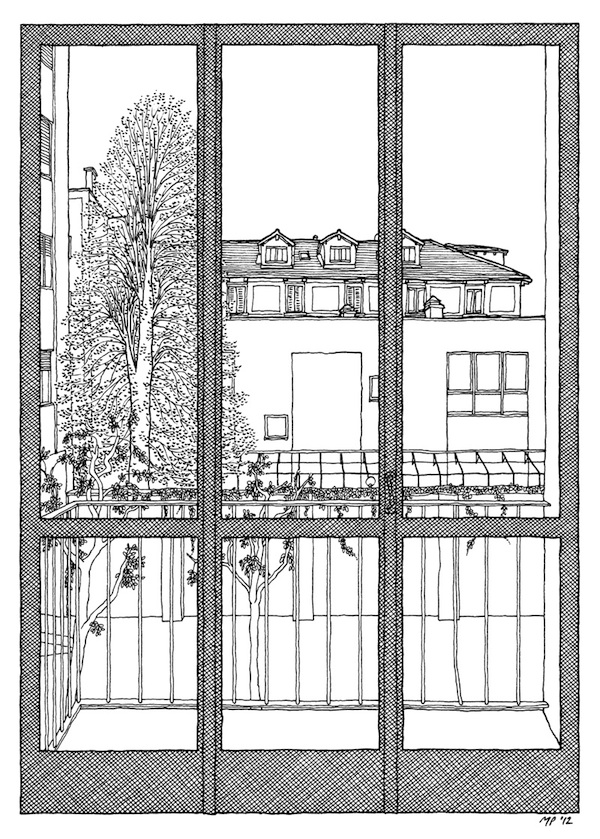 Do I pull up the shutter before my cappuccino or afterward? That's the first decision of each new day. I need to see if it's raining. The cord is worn and the shutter's slats will jam if yanked too hard. The view scrolls up. "View" is generous. This is an ordinary courtyard in a sixties condo in working-class Milan; my small balcony hangs over the building's main entrance, looking onto other small balconies above and to the left, some alive with plants, with dogs, cats, canaries, others storing old bikes, buggies, bits of furniture. In the middle of the space, a handkerchief of lawn and a tall hoarse chestnut, golden in midsummer, gaunt in winter, remind us of Nature. Otherwise it's all cement, stucco, and tiling. Not unpleasant, not oppressive, not exciting. After ten minutes in the café (across the street) where recent Chinese arrivals serve excellent coffee and croissants, I work with my back to the open window which lets in dogs barking, a young man iPhoning on his balcony, some challenged creature who yells sporadically down the street. The portinaia sweeps fallen leaves and cigarette stubs, chatting to all comers with unremitting enthusiasm. But I'm wearing earplugs; her voice is muffled. About ten-thirty the sun hunts me down and a bright boil of light finds out how long it is since I vacuumed the parquet. Too long. I frown and turn up the brightness on this other window I'm typing into. —Tim Parks
November 15, 2011 | by Andrew Martin
Umberto Eco's novels have been widely admired for their blend of erudite scholarship and satisfying, page-turning plots. His latest book, The Prague Cemetery, continues this tradition by placing a fictional character by the name of Simonini in the midst of a real, historical milieu and giving him a significant, sinister place in nineteenth-century history and beyond. Simonini, an equal-opportunity hater of ethnicities, races, and religions, is a master forger and plays an important role in crafting the "conspiracies" of his time, most importantly the document that becomes The Protocols of the Elders of Zion. I spoke to Eco about the novel, just now being published in the US, on the phone from Italy.
The Prague Cemetery is your sixth novel. Do you find it becomes easier to write a new book at this point in your career? Does it become harder to find new subjects to interest you?
Every time that I write a novel I am convinced for at least two years that it is the last one, because a novel is like a child. It takes two years after its birth. You have to take care of it. It starts walking, and then speaking. In two months I will be eighty years old. Probably I will not write another novel, and so mankind will be safe.
Did you enjoy writing this particular book?
Less than the others. For me, the process of writing usually takes six years. In those years I collect material, I write, I rewrite. I am in a sort of a private world of myself with my characters. I don't know what will happen. I discover it step by step. And I become very sad when the novel is finished because there is no more pleasure, no more surprise. Read More »