Posts Tagged 'Michael Shannon'
July 3, 2012 | by Clancy Martin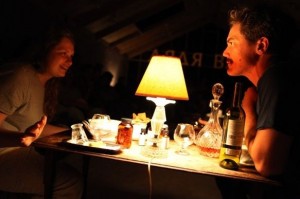 But how I got to thinking about my drunken love affair, years ago in Saint Petersburg, is Sam Gold's new production of Chekhov's Uncle Vanya, playing now at the Soho Rep.
It's ninety-nine-cent Sunday, and the line of sweaty New Yorkers edging for shade outside the eighty-seat theater is long. They are bored and tired. It's a muggy ninety degrees. "We're never going to get in," I hear one complain to another; later, outside the bathroom, where they sell vodka shots for three dollars a piece, I hear an excited woman say to her date: "I can't believe we made it!" Most of the people who stood or sat in line (many since two P.M.) did not see the show. My own guests, who had driven in from the Bronx for the production, were turned away.
"I'm the reviewer," I tried to convince the guy at the door.
"Man, we don't get lines like this, even for the Sunday show. I'll have a revolt. It wouldn't be fair."
My friends went to see a movie, and my date and I went to our corner seats, right by the couch where the Professor would later be shot (and not).
February 6, 2012 | by Adam Wilson
My name wasn't on the list. When I told her I was with The Paris Review, the woman in charge gave a can't-be-bothered shrug and stuck me on the red carpet between a correspondent from the socialite party blog Guest of a Guest and a reporter from The New York Daily News. The two were in deep discussion about a monthly gathering for gay men over six foot two.
"The Tall Gay Agenda, you've seriously never heard of it?"
"But I would never get in—I'm only 5'9''!
"It's not just for tall gays, it's in celebration of. Admirers are welcome!"
I was eavesdropping hard, announcing my dorky heterosexuality by wearing a backpack, revealing my red-carpet naïveté by not carrying a recording device and mumbling the name of my publication.
"Shouldn't you be, like, hanging out with The Observer or something?"
The occasion was a screening and gala to celebrate Lilyhammer, a quirky new series starring Steven "Little Stevie" Van Zandt (of Sopranos and E Street Band fame). Stevie plays a former New York mobster removed to rural Norway after ratting out his boss and joining the Witness Protection Program. The show, which premiers today through Netflix's Play at Home streaming service, is the company's first foray into original programming.
Prophetic bloggers have buzzed about the inevitability of this move for years: Netflix is coming, and the masters of pay cable are terrified. Two roads diverged in a wood, and I—I streamed the whole thing. Read More »