Posts Tagged 'memorabilia'
October 29, 2014 | by Adam Sobsey
Finding a Hall of Fame for Dock Ellis.
Let's get Dock Ellis into the Hall of Fame. Oh, not really, of course—by the Hall's statistical criteria, he isn't even close. But after a visit to Cooperstown in September, I found myself imagining a Hall of Fame that would enshrine him.
Ellis is unquestionably famous, after all—infamous, too. He is the subject of No No: A Dockumentary, which headlined the Hall of Fame Film Festival I attended last month; a Society for American Baseball Research panel event a few weeks later; a psychedelic song, recorded in 1993, by Barbara Manning; and, especially, an excellent book, published in 1976, by The Paris Review's own Donald Hall, Dock Ellis in the Country of Baseball. Evidence keeps mounting that Dock—always flamboyant, often controversial—was the emblematic player of his era, the seventies, with its dubious introduction of such artificialities as the designated hitter and Astroturf; the acrimonious battle for free agency; and all those drugs.
Ah, yes, drugs. Ellis, who died in 2008, is best known as the pitcher who, in 1970, threw a no-hitter while tripping on acid—appropriately, his name in a box score reads, "Ellis, D."—but that freak feat is a red herring, and it's not even his most freakish. On May 1, 1974, Dock decided to send a message to the Pirates' archrivals, the intimidating Cincinnati Reds, who had cowed Pittsburgh into competitive docility. "We gonna get down," Dock decided. "We gonna do the do. I'm going to hit these motherfuckers." Donald Hall recounts Ellis's plan and its execution. The first guy Dock hit was Pete Rose (who should also be in the Hall of Fame, though for very different and far more genuine reasons). After he hit three batters, walked another who ducked and dodged four pitches, and threw two beanballs at future Hall of Famer Johnny Bench, Ellis was mercifully removed from the game with this remarkable stat line: zero innings pitched, no hits, no strikes thrown, three hit batsmen, one walk, one run allowed. "Dock Ellis faced four batters in the first inning," the box score decorously explains. Dock's own explanation of himself in No No says more: "It's not that you've got to watch how I pitch," he insists. "You've got to watch how I play." Read More »
April 26, 2012 | by Sadie Stein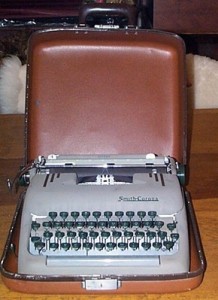 Eight thousand dollars might seem high for a Smith Corona—even a vintage one—but when you consider it belonged to Truman Capote, and during the period in which he wrote In Cold Blood, the surprising thing is that the eBay auction only drew two bidders.
Quoth the seller, an acquaintance of the author's:
All of these personal things were given to me by Mr. Capote. I picked him up from the airport in Kansas City, Missouri, several times and drove him to Holcomb, Kansas. Mr. Capote was getting information on a crime that took place there for a book he was writing.
And compared to his house, this is downright affordable! Of course, as Capote noted in his 1957 Paris Review interview,
No, I don't use a typewriter. Not in the beginning. I write my first version in longhand (pencil). Then I do a complete revision, also in longhand.