August 14, 2013 | by Tobias Carroll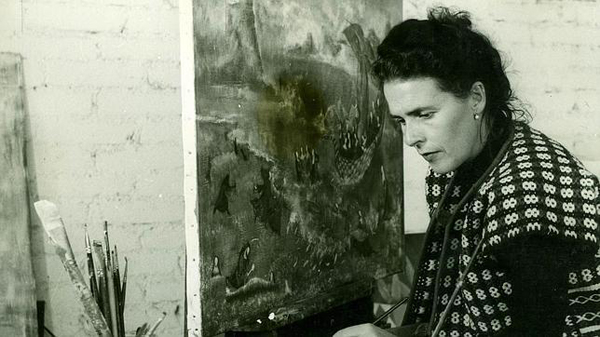 A young woman from an affluent family finds herself dreading her formal entrance into high society. An affable hyena offers to take her place; the young woman acquiesces, but the hyena demands a face to wear in place of her own. A maid enters, and the hyena murders her. The debutante doesn't object; she merely asks that the killing be done quickly. Later, the debutante learns of what transpired at dinner: the hyena's masquerade persisted until she took umbrage to the cake being served. She stood, tore off her false face, and escaped through a window.
All of this takes place in Leonora Carrington's short story "The Debutante." The motifs it contains recur throughout her fiction: an occasionally amoral protagonist; animals that speak and attract no alarm while doing so; and a satirical jab at certain institutions—here, the wealthy. Carrington is best known for her surrealist paintings and sculptures, but her idiosyncratic literary legacy is equally deserving of attention.
Carrington's best-known work of prose, the novel The Hearing Trumpet, begins on a note of gentle absurdity and gradually becomes truly bizarre. Marian Leatherby, the novel's protagonist, is an elderly woman living with her son and daughter-in-law. Using the titular device, she learns that they plan to place her in a home; after she arrives there, her narration gives way to a low-grade conspiracy narrative. Marian discovers evidence of mysterious gatherings, disappearances, and hints of the supernatural. Ultimately, all this leads to a total reordering of the terrestrial order: a world "transformed by the snow and ice." Marian anticipates the day when "the planet is peopled with cats, werewolves, bees, and goats. We all fervently hope that this will be an improvement on humanity …" Read More »