Posts Tagged 'Maureen McLane'
April 6, 2012 | by The Paris Review
"Some poems smack of a gentility one would like in some moods to smack out of them." Even before I read that sentence—about the sainted Elizabeth Bishop!—I knew Maureen McLane was the poetry teacher for me. Her first book of criticism, My Poets, is the survey course of my dreams: a long, loving argument with and about everyone from Chaucer to Gertrude Stein. As befits her subject, McLane is both plainspoken and lyrical, falling at times, as if naturally, into verse as clear as her prose. —Lorin Stein
I remember a college professor commenting that he was never sure Stephen Crane "knew what he was doing" when he dropped all sorts of clues and oddness into his stories. I had the same thought while reading Barbara Comyns's 1959 book, The Vet's Daughter. Does all this strangeness serve a purpose? Does the bizarre ending mean something? Whether the answer is yes or no, I still enjoyed the novel more than anything I've read in months, and I've already ordered the rest of her books. —Sadie Stein
Robert Caro—never disappointing—had a particularly good piece in the April 2 edition of The New Yorker, on John F. Kennedy's assassination but from LBJ's perspective. It's a bizarre and fascinating tale of how history is formed both by monumental events and by intimate details. And that famous photograph of his swearing in—as he stands grim-faced and flanked by Lady Bird and Jackie—will never look the same to me again. —Nicole Rudick
It wasn't the intimidating length or experimental style that had me wondering, Wait, what?, when reading Finnegans Wake. It was my damned curiosity about the "careful teacakes" that Joyce introduces. My foodie heart salivated at the thought—where do I get one of those? Luckily, I stumbled upon A Trifle, a Coddle, a Fry: An Irish Literary Cookbook last weekend and was thrilled to find a recipe for these mysterious treats alongside sixty-six other recipes gathered from food references in the writing of twelve Irish authors, including Beckett and Shaw. Crack it open for a satisfying literary and gastronomic adventure, and let the sating begin. —Elizabeth Nelson
Masha Gessen's The Man Without a Face: The Unlikely Rise of Vladimir Putin has kept me up the last three nights. —L.S.
This week I attended a reading of Dante's Inferno inside Saint John the Divine cathedral, a massive Gothic-revival church near Columbia University. If you missed it, mark the date. It happens annually on Maundy Thursday (which, for those needing to brush up on their Christian calendar, commemorates the day of the Last Supper). It was awesome, in the old-fashioned sense of the word. A wooden pew is really the only place one should learn about Hell. —Allison Bulger
January 19, 2011 | by Robyn Creswell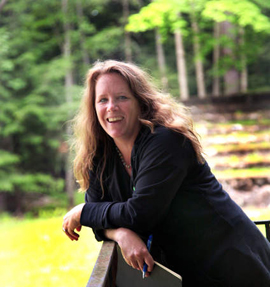 The winter issue of The Paris Review includes three poems by Maureen McLane. McLane has published two books of poetry, Same Life (2008) and World Enough (2010), along with several studies of British Romanticism. She teaches at New York University and lives in Manhattan.
You wrote about poetry as a critic and scholar for several years before you published your first collection. Were you writing poems all the while?
Yes! in a boom-and-bust way—which is the way I was living as well. I'd been writing poems since college, in several modes, feeling my way into and out of different, mainly lyric idioms. I was interested, too, in something like a poetics of not-communicating, or of not-prematurely-communicating. By the mid-'90s, I had completed a manuscript, most of which precedes and is distinct from Same Life, my first published book; a friend thinks I should publish that first manuscript as "Almost Lost."
What changed between the unpublished work and the poems of Same Life?
Same Life encompasses twelve years of poems, some of which overlap, in time and preoccupation and style, with the first manuscript. So there is some continuity: an interest in lyric sequences, for example. I think one shift was an increasing openness to, even an insistence on, a range and simultaneity of commitments—to erotic lyric but also invective, to compression but also expansion in some essayistic poems like "Excursion Susan Sontag." I think, too, that by the time I put Same Life together, I had gotten some mythic-mindedness out of my system. And in the mid-2000s, a couple of artist's residencies allowed me to focus even more intently on my work; that was an enormous boon, for which I am hugely grateful. Another not-unrelated fact: My life situation changed a lot in the '90s, including the end of my marriage, and certain energies were probably released into what became Same Life.