Posts Tagged 'Matthew Weiner'
April 27, 2014 | by Dan Piepenbring
Read The Paris Review's interview with Matthew Weiner, which appears in our latest issue and is, as of today, available in its entirety online. (If you bring it up with your friends and they're like, Yeah, I read that two months ago—what rock have you been living under, it's probably because they subscribe to The Paris Review. But so can you.)
Weiner discusses the writers who've influenced him:
I don't make lists or rank writers. I can only say which ones are relevant to me. Salinger holds my attention, Yates holds my attention. John O'Hara doesn't, I don't know why—it's the same environment, but he doesn't. Cheever holds my attention more than any other writer. He is in every aspect of Mad Men, starting with the fact that Don lives in Ossining on Bullet Park Road—the children are ignored, people have talents they can't capitalize on, everyone is selfish to some degree or in some kind of delusion. I have to say, Cheever's stories work like TV episodes, where you don't get to repeat information about the characters. He grabs you from the beginning.
And his early dalliance with poetry:
INTERVIEWER

What were your poems like?

WEINER

Pretty funny, a lot of them, in an ironic way. And very confessional. A lot like what I do on Mad Men, actually—I don't think people always realize the show is super personal, even though it's set in the past. It was as if the admission of uncomfortable thoughts had already become my business on some level. I love awkwardness.
And the origins of the Mad Men pilot:
Four years after I'd started working in TV, I wrote the pilot for Mad Men. Three years after that, AMC wanted to make it. They asked me, What's the next episode about? So I went looking through my notes. Now, imagine this. At this point it's 2004—I'm writing for The Sopranos—and I go back to look at my notes from 1999 ... but then I find this unfinished screenplay from 1995, and on the last page it says "Ossining, 1960." Five years after I'd abandoned that other screenplay, I'd started writing it again without even knowing it. Don Draper was the adult version of the hero in the movie. And there were all of these things in the movie that became part of the show—Don's past, his rural poverty, the story I was telling about the United States, about who these people were. And when I say "these people," I mean people like Lee Iacocca and Sam Walton, even Bill Clinton to some degree. I realized that these people who ran the country were all from these very dark backgrounds, which they had hidden, and that the self-transforming American hero, the Jay Gatsby or the talented Mr. Ripley, still existed. I once worked at a job where there was a guy who said he went to Harvard. Someone finally said, You did not go to Harvard—that guy didn't go to Harvard! And everyone was like, Who cares? That went into the show.
It's the perfect primer for tonight's episode, and it's available in full here.
March 3, 2014 | by Dan Piepenbring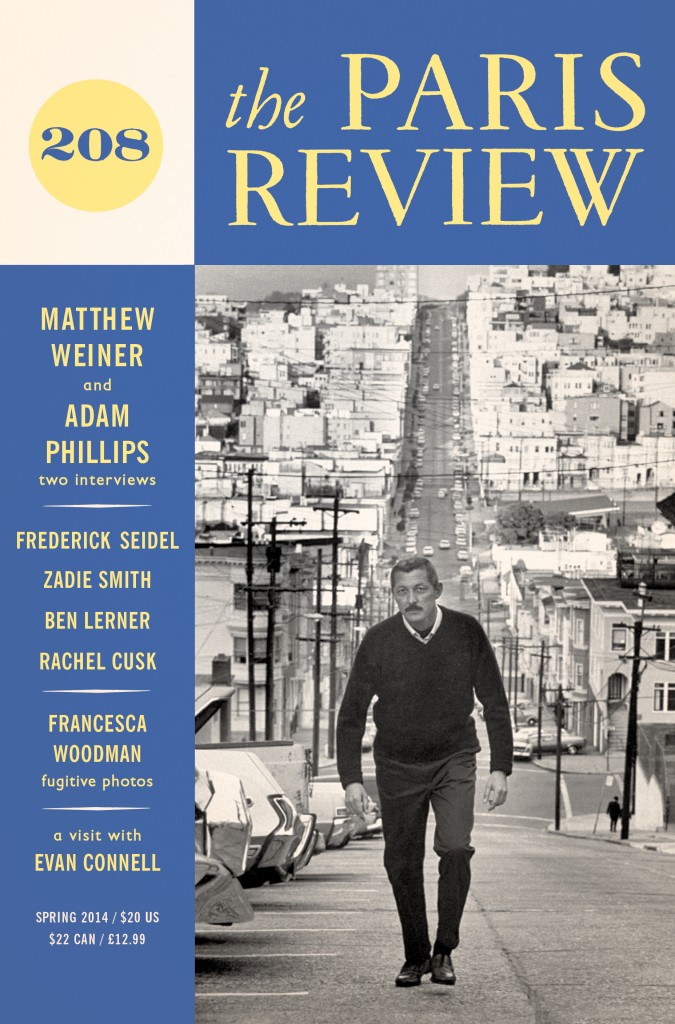 Our new Spring issue is full of firsts. That fellow on the cover is Evan Connell, whose first novel, Mrs. Bridge, originated as a short story in our Fall 1955 issue.
Then there's our interview with Matthew Weiner, the creator of Mad Men—the first Art of Screenwriting interview to feature a television writer. Weiner discusses the influence of T.S. Eliot, John Cheever, Alfred Hitchcock, and The Sopranos on his work:
Mad Men would have been some sort of crisp, soapy version of The West Wing if not for The Sopranos. Peggy would have been a climber. All the things that people thought were going to happen would have happened … The important thing, for me, was hearing the way David Chase indulged the subconscious. I learned not to question its communicative power.
And in the Art of Nonfiction No. 7, Adam Phillips grants us our first-ever interview with a psychoanalyst; he discusses not just his writing but his philosophy, and the importance of psychoanalysis:
When people say, "I'm the kind of person who," my heart always sinks. These are formulas, we've all got about ten formulas about who we are, what we like, the kind of people we like, all that stuff. The disparity between these phrases and how one experiences oneself minute by minute is ludicrous. It's like the caption under a painting. You think, Well, yeah, I can see it's called that. But you need to look at the picture.
There's also our first story from Zadie Smith; fiction from Ben Lerner, Luke Mogelson, and Bill Cotter; and the second installment of Rachel Cusk's novel, Outline, with illustrations by Samantha Hahn. Plus new poems by John Ashbery, Dorothea Lasky, Carol Muske-Dukes, Geoffrey G. O'Brien, Nick Laird, and the inimitable Frederick Seidel, who will be honored with the Hadada Award next month at our Spring Revel.
And a portfolio of previously unpublished photographs by Francesca Woodman.
It all adds up to an issue sure to put a spring in your step.