Posts Tagged 'Matthea Harvey'
September 2, 2014 | by Stephen Burt
Matthea Harvey's whimsy almost defies the scope of the English language. She seems to sculpt out of molten glass the topics and the treatments in her poems, optimistic fairy tales for a universe where everything's deformed, or maybe deformed fairies in a universe where everything's optimistic. It's easy to feel almost at home among her poems, which are sometimes uncanny in the way that scary truths are uncanny, sometimes uncanny like the Uncanny X-Men, and sometimes uncanny in that their delightful artifice should, but can't, be preserved and canned.
Harvey teaches at Sarah Lawrence College and lives in Brooklyn; she grew up in England and Wisconsin. You may have read her beautifully titled first volume, Pity the Bathtub Its Forced Embrace of the Human Form (2000); or Modern Life (2007), where alliterative, associative, alphabetical poems jostle against prose parables that science-fiction readers would call "slipstream"; or Of Lamb (2011), Harvey's collaboration with the visual artist Amy Jean Porter, in which an erased biography of Charles and Mary Lamb sends Mary and Her Lamb through—a lost garden? A forest of previous children's books? A dreamland? Or you might have seen one of her other collaborations—with composers, with animators—or one of her own photographs. Still, you won't be ready for If The Tabloids Are True Then What Are You?, her new collection of poems and fables, in verse and prose, about mermaids, ice cubes, erasures, talking animals, and early telephones, with a set of images—including photographs of Harvey's sculptures—inseparable from them. As NPR put it earlier this year, "Harvey is a genius of the unusual, and of the dark underbelly of the adorable."
You can read more about her here and especially here.
Some of the poems have obvious sources in fables—"No-Hands has hands," or "the animals did begin to glow." Is there a particular fable or fairy-tale compilation that served as your best source? Aesop, the Grimms, La Fontaine, Kafka, Andrew Lang?
I wrote both of those poems without knowing that there were fables about either one. Myths and fairy tales are mysterious that way—we're all shoots sprouting from one underground narrative fungus. Still, I know that stories by the Brothers Grimm, Hans Christian Andersen, and Heinrich Hoffmann's Der Struwwelpeter are all tumbling around in the pebble polisher of my unconscious. I'm currently reading Phillip Pullman's Fairy Tales from the Brothers Grimm, in which I found a new favorite, "The Mouse, the Bird and the Sausage." This insanity happens in it: "The sausage stayed by the pot most of the time, keeping an eye on the vegetables, and from time to time he'd slither through the water to give it a bit of flavoring. If it needed seasoning, he'd swim more slowly." Imagine flavoring a soup with yourself!
This collection is full of mermaids. Why mermaids?
Primarily because the phrase "straightforward mermaid" appeared in my head and wouldn't leave me alone. But why mermaids in general? Because they're sex objects who can't have sex. Because there's a whole school of gender issues swimming around them. Because we live among so many unspoken boundaries that sometimes it's a relief to have such an explicit one. Because we all know the feeling of being divided and not belonging. Because we don't acknowledge our animal selves enough. Read More »
July 6, 2011 | by Thessaly La Force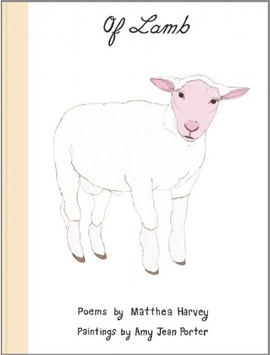 In 1796, at the age of thirty-two, Mary Lamb had an attack of madness and killed her mother and wounded her father with a knife. She was institutionalized for three years until the death of her father, when, at the behest of her younger brother, Charles, she was brought to live with him. Charles Lamb was a clerk at the East India Company and a well-regarded essayist, and he remained Mary's caretaker and companion for the rest of their lives. The Lamb siblings were part of a literary circle that included Samuel Taylor Coleridge, the Wordsworths, William Hazlitt, and Mary Shelley, and they are the subject of the biography A Portrait of Charles Lamb by David Cecil.
Their story is also at the heart of a strange new illustrated poem that was published as a book by McSweeney's this month. Of Lamb is a collaborative project between poet Matthea Harvey and artist Amy Jean Porter. Harvey was fascinated by the process of erasures after seeing Tom Phillips's A Humument and Jen Bervin's Nets and decided to do one herself with the first book she could find for three dollars. "I picked up A Portrait of Charles Lamb completely randomly," Harvey told me. "When I discovered that Mary and Lamb were on each page, a story in poems started to emerge." There are echoes of Sarah Josepha Hale's famous nineteenth-century rhyme "Mary Had a Little Lamb," which tells the story of a young girl named Mary Sawyer who brings her pet lamb to school. But there are also weirder, more fascinating moments, too: "Nerves his family / Trouble his home / Dark spirits his company."
Below are a few slides of Harvey's erasures and the illustrations by Porter. Porter says she was "thinking of an illustrative tradition of a nineteenth-century British variety—Edward Lear, Beatrix Potter, Eleanor Vere Boyle" but also cites brass chandeliers, water towers, and artists such as Balthus and Gabriel Orozco as inspiration. Click to enlarge.
Join Harvey and Porter tomorrow, on July 7, at P.P.O.W. Gallery at 7:00 P.M. at 535 West 22nd Street, in New York, for a reading from Of Lamb.