Posts Tagged 'Mary Ann Evans'
November 22, 2013 | by Sadie Stein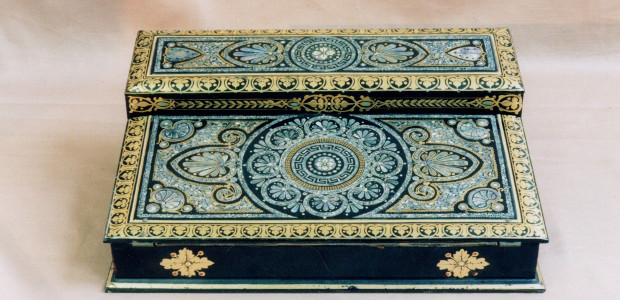 Today, George Eliot's birthday, let us pay tribute to the sad chapter in our collective history when, in 2012, someone stole the author's portable writing desk from the Nuneaton Museum and Art Gallery in Warwickshire. Having seen no updates in the ensuing year, we are left to assume that both thief and papier-mâché secretaire are still at large, and that some greedy literary mogul is gazing upon it as we speak. But as Miss Evans herself might have said, "It is surely better to pardon too much, than to condemn too much." May it bring inspiration.
November 6, 2012 | by Sadie Stein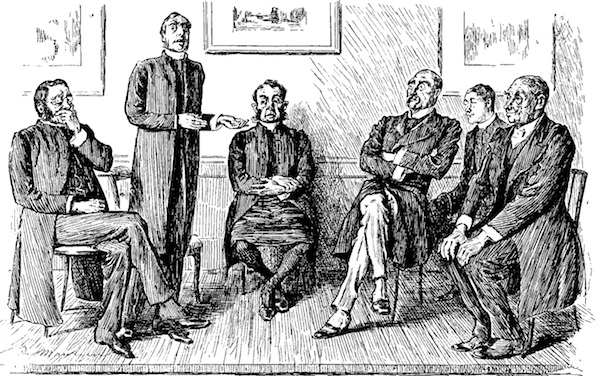 "Religious ideas have the fate of melodies, which, once set afloat in the world, are taken up by all sorts of instruments, some of them woefully coarse, feeble, or out of tune, until people are in danger of crying out that the melody itself is detestable."
―George Eliot, Scenes of Clerical Life
On November 6, 1856, thirty-six-year-old Mary Ann Evans, a well-regarded intellectual and essayist, submitted a manuscript to Blackwood's Magazine. It would run, in three installments, throughout the next year. And under the title Scenes of Clerical Life, the three stories would become George Eliot's first published work of fiction.
Her rationale for adopting the pen name was manifold; she both wished to avoid the stigma of the saccharine "lady novelist" and divorce the work from her own reputation. Evans, after all, was an outspoken agnostic and lived with a married man. The latter point was especially crucial given the subject of her fictional debut. These precautions notwithstanding, the book―which takes place in a country village over the course of fifty years―was the subject of some controversy amongst those who feared they had been lampooned. And while sales were respectable, if not brisk, and it won the praise of such luminaries as Dickens, today it is regarded more as a key part of the author's development than as a masterpiece in its own right.