Posts Tagged 'Martin Heidegger'
October 22, 2013 | by Albert Mobilio
So just what is the "thingness of the thing" that Heidegger was talking about? The phrase's riddlesome poetry could easily have been penned by John Ashbery, instead of the crusty German phenomenologist. Is Heidegger suggesting that material things possess an essence, an abstract quality that both defines and constitutes, say, a shoe—its shoeness? Perhaps, but Ashbery, in fact, offers a more straightforward assessment of the unseeable stuff that makes stuff stuff in the opening lines of "Grand Galop": "All things seem the mention of themselves." Such are my thoughts as I roam the rooms of Ashbery's Hudson, New York, home … well, only to the degree that the galleries at Loretta Howard, in Chelsea, have been decorated with trompe l'oeil drawings—wainscoting, doorways, mantels—to look like the rooms of the poet's well-appointed nineteenth-century house.
Thoughtfully curated by Loretta Howard Gallery and poets Adam Fitzgerald and Emily Skillings, the show offers a selection of Ashbery's own paintings, prints, collages, bric-a-brac, and furniture; it's all cozily arranged to conjure as much domestic atmosphere as might be had in a gallery space. Kitschy figurines, VHS tapes (Daffy Duck and Jack Benny among them), bawdy toys, and hand-painted plates line the shelves of cabinets and bookcases that could have been lifted whole from Ashbery's parlor. Other items, like the French Provincial chairs and Oriental rugs, have been. They complement a piano drawn on a wall on which are hung several selections of early twentieth-century sheet music ("Mr. and Mrs. Is the Name," "Flirtation Walk"), as if resting on the instrument's music desk.
Alongside such homey items (the cartoons playing on the TV jangle in a familiar way with the filigree wallpaper designs) are pieces by many of the poet's friends and artistic confederates, such as Joan Mitchell, Fairfield Porter, Larry Rivers, Trevor Winkfield, Jess, Alex Katz, Jane Freilicher, and Willem de Kooning. There's a gemütlich vibe, equal parts wry and melancholic, generated by this assemblage of things cultural that ably recalls the mood and manner of Ashbery's writing. To elucidate this point, the curators include wall text featuring apt passages of his verse that treat the world, if not the mind, as a congeries of curios, a kind of Cornell box. Of course, the show includes a few of those; with poems populated by Popeye, Henry Darger, Chopin, Faust, Parmigianino, and a myriad of other, less identifiable references, it's no surprise that Ashbery is a devotee of Cornell's eclectic connoisseurship. Both share an affinity for the metaphysique d'ephemera, an aesthetic that elevates the trivial to the transcendent. Read More »
May 30, 2013 | by Roger Berkowitz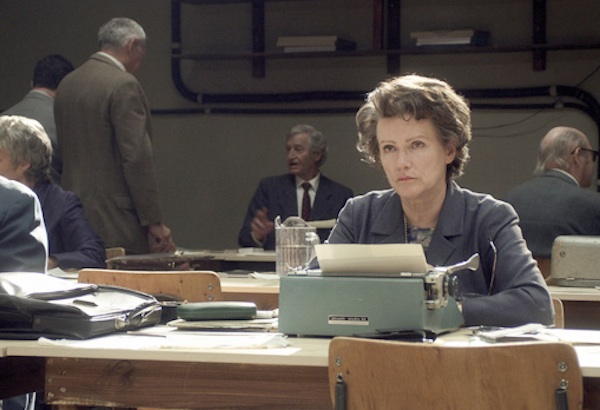 In 1963, The New Yorker published five articles on the trial of Adolf Eichmann, the Nazi chief of Bureau IV-B-4, a Gestapo division in charge of "Jewish Affairs." Written by political thinker and Jewish activist Hannah Arendt, the articles and ensuing book, Eichmann in Jerusalem, unleashed what Irving Howe called a "civil war" among New York intellectuals. While some reviews cursed Arendt as a self-hating Jew and Nazi lover, the Jewish Daily Forward accusing her of "polemical vulgarity," Robert Lowell termed her portrayal of Eichmann a "masterpiece," and Bruno Bettelheim said it was the best protection against "dehumanizing totalitarianism." Across the city, Arendt's friends chose sides. When Dissent sponsored a meeting at the Hotel Diplomat, a crowd gathered to shout down Alfred Kazin and Raul Hilberg—then the world's preeminent Holocaust scholar—for defending Arendt, while in The Partisan Review Lionel Abel opined that Eichmann "comes off so much better in [Arendt's] book than do his victims."
In the years since that fiery time, Eichmann in Jerusalem has remained something to condemn or defend rather than a book to be read and understood. I therefore had some fears when I heard that German director Margarethe von Trotta was making a film about Arendt's coverage of the trial. But Hannah Arendt accomplishes something rare in any biopic and unheard of in a half century of critical hyperbole over all things Arendt: it actually brings Arendt's work back into believable—and accessible—focus.
The movie opens with two wordless scenes. The first depicts the Mossad's abduction of Eichmann. The second follows a silent Hannah Arendt as she lights, and then smokes, a cigarette. Around her, all is darkness, and for a full two minutes, we watch her smoke. Played with passionate intensity by Barbara Sukowa (who won a Lola, the German Oscar), Arendt ambles. She lies down. She inhales. But above all, we see the cigarette's ash flare brilliantly in the dark. Hannah Arendt, we are to understand, is thinking.
Although Arendt's work follows numerous byways, one theme is clear: in modern bureaucratic societies, human evil originates from a failure not of goodness but of thinking. Read More »