Posts Tagged 'manuscripts'
April 16, 2014 | by Graciela Mochkofsky
Seven years ago, a stolen first edition of Borges's early poems was returned to Argentina's National Library. But was it the right copy?
The world of rare books and manuscripts is full of intrigues, betrayals, and frauds. Alberto Casares has lived in this world for decades; as the president of the Antiquarian Booksellers Association of Buenos Aires, he's an expert on the subject. He's got the physique du rôl: a gray, messy beard; a soft body; an intense and wary look.
A few months ago, Casares was offered a seventeenth-century original edition of Don Quixote for one million euros. He recognized it as a well-known forgery from the nineteenth century, worth no more than €200,000. The seller took it away, determined to find a more unsuspecting client, and Casares was left alone with the melancholy of having lost something that was never his to own.
What would some people give to own it? Casares told me, "Bibliographers are willing to commit crimes to follow their mad desire to own things." He was thinking of a former client, Daniel Pastore, a collector of rare books and first editions, heir to a pharmaceutical fortune and owner of Imago Mundi, Buenos Aires's most elegant antiquarian bookshop, which closed a few years ago after a succession of international scandals involving Pastore.
Casares was annoyed and fascinated by Pastore, who was eighteen the first time he walked into Casare's bookshop. He was handsome, rich, likeable, and learned—a good client. But he was also pedantic; he claimed to know more about rare books than Casares. Sometimes he did. But not when it came to Jorge Luis Borges. Read More »
October 24, 2013 | by Sadie Stein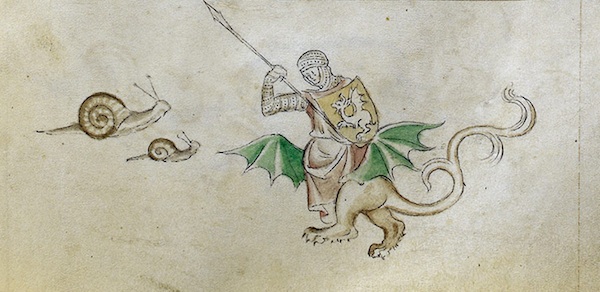 I'm told foxes are all the rage right now. Specifically, that "foxes are the new owls." Owls, of course, were the new squirrels, and I forget what preceded that, but it all started with birds. And birds, as we know, are, in our post-Portlandia world, beyond parody. But the seemingly arbitrary celebration of anointed fauna is nothing new. In the Middle Ages, it would seem, scribes were enamored of knights and snails.
The British Library blog notes, "as anyone who is familiar with thirteenth- and fourteenth-century illuminated manuscripts can attest, images of armed knights fighting snails are common, especially in marginalia." But why? Throughout history, scholars have floated theories ranging from resurrection allegory, to class struggle, to mockery of the Lombards (apparently the targets of much medieval badinage). At the end of the day, no one knows for sure. What is certain is that the gallery of images on the site is fascinating, and peculiar indeed.
Said the philosopher and theologian Albert the Great,
If thou wilt forejudge, or conjecture things to come … Take the stone which is called Chelonites. It is of purple, and divers other colours, and it is found in the head of the Snail. If any man will bear this stone under his tongue, he shall forejudge, and prophesy of things to come. But notwithstanding, it is said to have this power only on the first day of the month, when the moon is rising and waxing, and again on the twenty-ninth day when the moon is waning.
In the spirit of that Dominican (albeit a few days early), I shall make so bold as to prophesy something: I see no reason why knights and snails, representing either marauding Lombards or rebellious serfs, shouldn't be the foxes of F/W 2014. You read it here first.