Posts Tagged 'Manuela Draeger'
July 8, 2015 | by J. T. Mahany and Jeffrey Zuckerman
We both discovered Antoine Volodine, appropriately enough, in winter. One of us was sitting in a classroom overlooking bare trees, translating the first pages of Des anges mineurs (Minor Angels). The other one of us had just read the same novel in English and was sleepwalking through the dark, snowy streets of Rochester recalling Volodine's declaration that the novel's meaning was "not in the book's pages but in the dreams people will have after reading it."
Volodine's books are almost as dreamlike as their author himself. He writes under four (or perhaps five) heteronyms, including Antoine Volodine, and only the most basic facts of his biography are known: he was born in 1950, came of age during the 1968 student protests in Paris, and taught Russian in France for some fifteen years before devoting himself entirely to writing. His debut, Comparative Biography of Jorian Murgrave, appeared in France in 1985. It is the story, told by way of fragmented microbiographies, of an alien hunted down on Earth whose dreams are invaded by psychobiologists intent on making him talk. "There is no way I could call Biographie comparée a novel," one befuddled critic wrote; others were swift to express their shock and delight at such an innovative author appearing in the frequently monotonous ranks of science fiction. In a matter of years, Volodine had became famous for his (and his heteronyms') singular brand of writing.
Names, places, and themes recur throughout his oeuvre; it has quickly coalesced into a new genre, which Volodine terms "post-exoticism." This genre, "a foreign literature written in French," describes prisons and Eurasian steppes, interrogations and monologues, walks through the Bardo state, failed revolutions and cataclysms, and humans struggling, in spite of everything, to survive in a world similar to our own.
Minor Angels, published in France in 1999, comprises forty-nine narracts—brief texts, prose poems, short stories—loosely connected around a group of immortal crones who indirectly revive capitalism; it won Volodine the Prix France Inter in 2000 as well as an international readership. To date, he has published some forty books—including Naming the Jungle, We Monks and Soldiers, In the Time of the Blue Ball, and Writers—under his own heteronym, as well as those of Manuela Draeger and Lutz Bassmann. Open Letter Books will publish translations of three new books over the next three years; the first of these, Post-Exoticism in Ten Lessons, Lesson Eleven, appeared in May.
We interviewed Volodine last winter, shortly after he was awarded the Prix Médicis for his novel Terminus radieux. We asked our questions in English, and he responded in wonderfully Volodinian French.
Twenty-five years ago, a reporter at Le Nouvel Observateur asked in which literary category you would place your work, and you responded that it was outside and beyond the conventional categories of existing literature. The question prompted you to invent the nearly nonsensical phrase "post-exoticism." But eight years later, the phrase had taken on some significance, enough that you published a book around it, Post-Exoticism in Ten Lessons, Lesson Eleven. Since then, has "post-exoticism" come to mean something different for you?
I'd like to start by correcting an error I made. I attributed this question to a Nouvel Observateur reporter. It actually came from a reporter for Le Point in July 1991. Our conversation was exactly this—"What genre do you prefer to be classified in?" "Anarcho-fantastic post-exoticism." It was a somewhat irreverent wisecrack, but it was a way, at the time, to confirm that I didn't belong either to science fiction, the genre in which my first four books had been classified, or to highbrow French avant-garde literature, which Éditions de Minuit, my publisher at the time, often published. I took the opportunity of the interview to proclaim this break, which seemed evident to me but which literary critics had had trouble taking into account. They hid for far too long behind the adjective unclassifiable, which I can still find in numerous publications today. Read More »
September 24, 2012 | by Nicole Rudick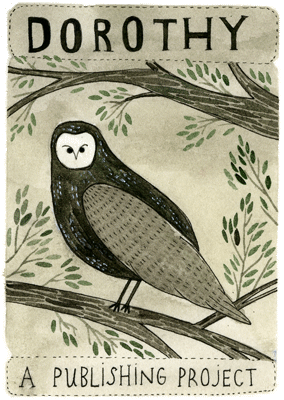 In 2010, Danielle Dutton founded Dorothy, a publishing project, with the aim of producing books that appeal both to fiction readers and to poetry fans. Her own writing—she is the author of two novels, Attempts at a Life and S P R A W L—likewise embraces the slipperiness of not quite being one or the other. The covers she designed for Dalkey Archive, meanwhile, were often as minimal and tonal as the writing within. Who better, then, to shepherd formally unconventional, handsomely made little books into being? On the occasion of her third year of books—she produces a pair each year—I spoke with Dutton by phone about her one-woman operation.
How would you describe the aesthetic of the press?
Part of the idea of starting the press was that I felt that I was in two different camps. In working at Dalkey, I felt tapped into American literary fiction and translation. At the same time, my own writing was more small press, experimental, and I felt that, much of the time, there is little crossover between those two communities. The idea, then, was to publish two books each year that are aesthetically different, in order to try to develop a crossover readership.
The fiction community that my own writing was coming out of at the beginning was really loose and close to poetry, and it seemed like that there was no cross-reading going on. So I published Renee Gladman, who started as a poet. The other book I published that first year was a novel by Barbara Comyns that was out-of-print. I offered those two books together at a special discount to encourage people to buy both when they come looking for just one—to get Renee Gladman's book into the hands of Barbara Comyns's readers and vice versa. So the aesthetic is open, but it's all work that is risking something, that is adventurous aesthetically or structurally.