March 10, 2014 | by Liz Arnold
Encaustic means "to burn." The ethereal quality of Betsy Eby's encaustic paintings belies the labor-intensive process of their making—an ancient method involving heated wax, damar resin (the sap of a Southeast Asian pine), and pigment applied in translucent veils with brushes and knives. Using a blowtorch, she liquefies the wax and fuses the layers with fire.
Eby's solo show, "Painting with Fire," is now at the Morris Museum in Augusta, Georgia. Eby is also a classical pianist, and many of her works are titled for musical pieces; her delicate compositions often seem to possess fluttering rhythms reminiscent of piano music. Eby is steeped in the Romantic era's exploration of the interplay of senses. In a new book, Betsy Eby, art historian David Houston contributes an essay about synesthesia in her work, exploring the connections between sound and image. He mentions Baudelaire's idea of correspondence, "anchored in the belief that sensory experiences can correspond to common emotions." One of the surprising benefits to viewing Eby's work in person is the engagement of another sense—smell—in the presence of natural beeswax. Drawing from poets and philosophers, composers and visual artists, her paintings resonate as much with history as they do modernity.
I recently spoke with Eby from her studio in Columbus, Georgia, where she lives with her husband, the Realist painter Bo Bartlett, in his childhood home. (The Morris Museum is also hosting a concurrent show of Bartlett's work, "Paintings from Home.") Read More »
September 3, 2013 | by Jeff Dolven and Lorin Stein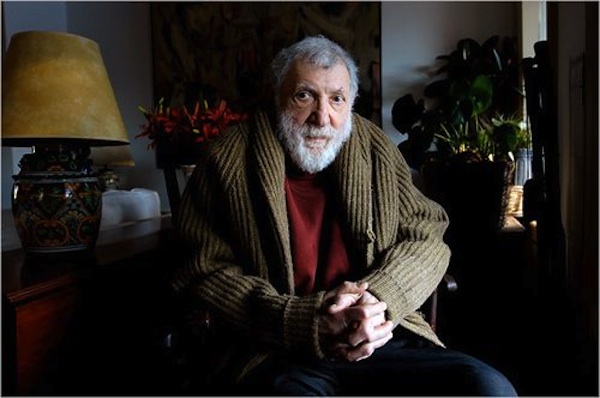 During his five-decade career as a poet, the late John Hollander was a frequent contributor to The Paris Review. He was also renowned as a scholar and critic. Here he is remembered by two former students, our contributor Jeff Dolven and editor Lorin Stein.
John Hollander once told me a story that served him as a kind of ur-scene of explanation. As a boy he was sitting with his father at the breakfast table, and he asked, apropos of nothing he could later recall, "Dad, what is a molecule?" By way of an answer, his father reached into the sugar bowl and lifted out a cube.
"So what is this?" his father asked.
"Sugar," said John. Next his father set the cube down on the table and rapped it sharply with a teaspoon, so that it broke into coarse crystals.
"And what is it now?"
"Sugar," said John again.
"Well then," said his father, "a molecule is the smallest piece of sugar you can get that's still sugar." The grown-up John delivered the last sentence like a punchline, laughing and widening his eyes and spreading his hands. Read More »