June 23, 2014 | by Dan Piepenbring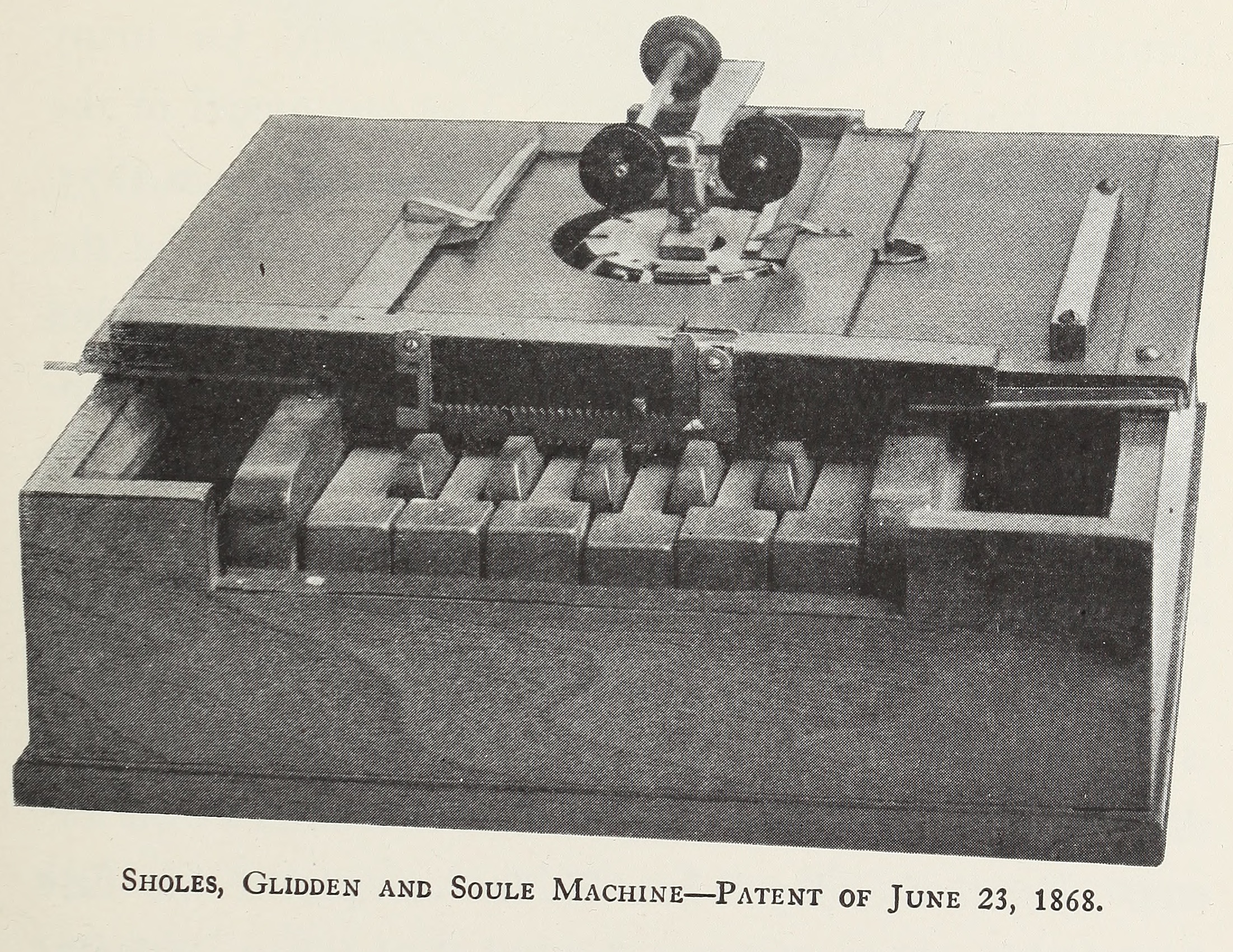 The history of the typewriter is, as with the history of the personal computer after it, rife with collaboration, ingenuity, betrayal, setbacks, lucre, acrimony, misguided experimentation, and bickering white men. There are rough analogs for Bill Gates and for Steves Jobs and Wozniak (though there's no one so delirious and insane as Steve Ballmer)—and one such analog is Christopher Latham Sholes, a Milwaukee printer whose first "type-writer" was patented 146 years ago today.
Sholes is widely credited with having invented the first QWERTY keyboard. It helped to prevent jams and increase typing speeds by putting frequently combined letters farther apart—but that took years of trial and error; the initial iteration of his typewriter was far more rudimentary in design. It looks like a miniature piano crossed with a clock and/or a phonograph and/or a kitchen table—and Sholes did, in fact, design the prototype out of his kitchen table. As you can imagine, it didn't boast what today's designers would call "intuitive UX." Its keys, borrowing from innovations in telegraphy, were arranged as such:
3 5 7 9 N O P Q R S T U V W X Y Z
2 4 6 8 . A B C D E F G H I J K L M
Notice the absence of 0 and 1; Sholes and his cohort assumed that people would make do with I and O. They also couldn't be bothered with lowercase letters—the first Sholes model was in a condition of eternal caps lock, doomed to permanent shouting. And yet in another sense Sholes was full of intuition and prescience: purportedly, the first letters he typed on the machine were "WWW." Read More »
January 2, 2013 | by Jacob Leland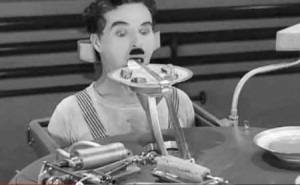 The opening scenes of Charlie Chaplin's Modern Times demonstrate the indignities mechanized factory production perpetrates upon the bodies of its workers. The first shot, of sheep herded into a pen, dissolves into one of men leaving the subway. They're bound, the viewer assumes, for the kind of job in which the next cut finds Chaplin's Little Tramp: working on an assembly line, his motions so repetitive that they become reflexive. He can't stop twisting his wrists, as if to tighten bolts, even when he leaves the station where he tightens bolts all day. His body is so bound to the line and to the factory that the same boss who controls the conveyor belt's speed also controls the movements of the Tramp's body. Finally, the factory extends its control to the Tramp's last autonomous function: eating his lunch.
A salesman so committed to mechanization that he lets a machine speak for him has brought to the factory boss's office a prototype of "the Billows Feeding Machine, a practical device which automatically feeds your men while at work." He asks the boss to pick one of his workers for a demonstration, and of course Chaplin's Tramp is volunteered. Strapped into the machine, hands incapacitated, the helpless Tramp watches the machine rotate plates before him: soup, air-cooled between spoonfuls; corn, spinning on its cob; cubes of meat, pushed by a mechanical arm from the plate into his mouth; and finally cake for dessert. The machine promises to "eliminate the lunch hour."
Even before the machine goes predictably haywire—speeding up, spilling soup on the Tramp's shirt and cake in his face (always pausing, hilariously, to wipe his mouth)—it's clear to the viewer that some kind of line has been crossed. Read More »